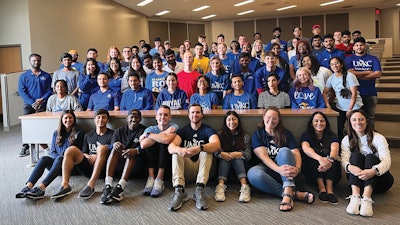 Courtesy of UMKC Campus Recreation
Liz Seal attended The Ohio State University to pursue a career in public health but eventually changed her intended career path after she began working in campus recreation as a student employee. "I really liked the environment of working on a college campus with college students, helping them live their best life," she says. "To me, that felt like I was still doing public health work, but in this really amazing environment."
Rachel Rayburn, a senior at Utah State University, tells a similar story — only she began her college career as an elementary education major before changing gears. "I distinctly remember, halfway through my sophomore year, realizing that I cannot do lesson planning. It was not for me," Rayburn says. "But I loved my job [as a desk attendant] in campus rec. So I looked into my options, and within a week I had switched my major."
Today, Seal is assistant director of operations and student development for campus recreation at the University of Missouri-Kansas City, while Rayburn is the lead facility supervisor for campus recreation at Utah State University, which is one of the highest-ranking student-held positions within the department. She's on track to graduate with a degree in recreation administration and plans to pursue a master's in the field with the goal of eventually working full-time on a college campus.
'More than just a paycheck'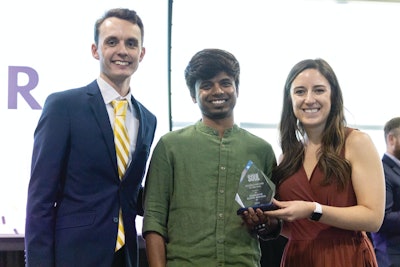 Both women's career trajectories illustrate the powerful pull of campus recreation — especially among student employees. After all, not only is campus recreation one of the largest student employers at most colleges and universities, it also offers some of the most far-reaching professional development opportunities.
"We're trying to give them more than just a paycheck," says Katie Burns, associate director of campus recreation for Utah State University and Rayburn's supervisor. "We're here to help them be successful, and for some of them, that's an eye-opening experience."
Burns, Seal and four of their campus recreation colleagues recently collaborated to write Student Staff Training & Development, a new 104-page book published by NIRSA as part of its "Campus Recreation Essentials" series. Key themes covered include prominent student-development theories, how those theories can be applied to student employment experiences, how progress is assessed, and the core competencies students gain through employment in campus recreation environments.
Throughout the book, the authors use real-life examples from colleagues across the country to highlight topics such as training plans and infusing theory into practice. The hope, they write, is to help campus recreation supervisors "take training and development approaches from transactional to transformational."
Part of that process involves consistently giving and receiving feedback, according to Seal, who credits her own professional transformation to her Ohio State supervisor at the time. That supervisor, Kelly Shorter, expanded an existing on-campus facility management internship position to help steer Seal in a new direction.
"Listen to your students and find out what's going on with them and what their goals are," Seal says. "Find out what's working and what's not working. Evaluation, in other words, should be a two-way conversation — maybe even with the supervisor listening more than talking."
Not 'rocket science'
Student Staff Training & Development is divided into actionable steps — plan, act and assess — that seek to intentionally and continually improve student staff training practices. "Student development doesn't have to be rocket science, but you have got to be intentional in the way you go about it," Burns says.
In the book's first section, on planning, the authors offer multiple student-development theories and frameworks, plus examples of each. The theories include the stretch zone model, which consists of three zones: comfort (in which a student employee feels at ease), panic (caused by too many challenges) and stretch (reached when students lean into discomfort and gain confidence in the face of resistance).
"Most people don't learn in the comfort or panic zones," Burns says, adding that the stretch zone is ideal. "I will tell students directly, 'Hey, it looks like right now you're kind of in a panic zone as opposed to a stretch zone.' The stretch zone is where you can learn and grow and thrive, rather than just survive."
The second section focuses on "how to effectively integrate student-development theories into everyday training and development opportunities." This includes supervisors proving to students they know how to do student jobs and then participating in those roles alongside students, as well as empowering students to take ownership of their roles and apply for leadership positions within the department. The authors also encourage professional staff to show genuine support and compassion for student staff.
The third and final section emphasizes assessment and evaluation, which the book's authors argue are often underused tools. It focuses on the strengths and limitations of employee interviews, surveys and focus groups, as well as explains how assessment can influence student development and learning. The appendices include competencies for both student employees and professional staff.
"The book is a really great starting point," Seal says, suggesting that supervisors implement professional development changes gradually. She also recommends inviting student employees to speak transparently about their work experiences and career goals with professional staff. "I think there's a lot of power in telling students, 'Hey, your feedback from this is really going to help you, as well as the next wave of student employees that comes in."
Rayburn says her experience working as a student employee in Utah State's campus recreation department has prepared her well for a career in the field, in large part because Burns and her team already have implemented many of the ideas outlined in Student Staff Training & Development. Additionally, a recent policy change requires all student staff members to attend at least one in-house professional development opportunity each semester. Rayburn also attended the 2022 NIRSA Annual Conference and Campus Rec & Wellness Expo in Portland, Ore. — which reinforced her career decision.
Burns and Seal are thrilled to play such pivotal roles in the lives of their student employees. "When students come to college, they're at a crossroads," Seal concludes. "They say, 'Oh, I can sleep until noon' or 'I can pick whatever I want to eat' or 'I can now identify a different way.' Whatever it might be, they come to this crossroads, but they also become empowered to be the author of their own lives. And so for me, I think student staff development is about creating those crossroads moments, knowing we're not often going to see the authorship stage. I'm trying to create those moments when students think about this later on in life and say, 'I learned that when I worked in campus recreation.' "