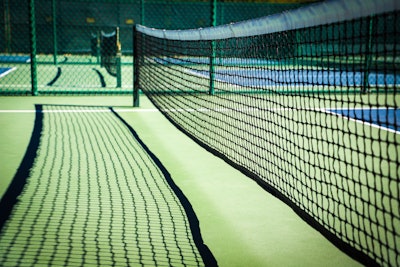 The recreational pickleball courts at a community center in Philadelphia are upsetting some neighbors.
According to the Philadelphia Inquirer report, pickleball now has nearly 5 million players, and there are an estimated 2,000 regular Philadelphia pickleball players, according to Braden Keith, a community organizer who runs the Philadelphia pickleball Facebook page.
In the Chestnut Hill neighborhood, the rear property lines of two-story brick rowhouses on the 8100 block of Ardleigh Street sit just 14 feet from lighted pickleball courts at Water Tower Recreation Center, managed by Philadelphia's Department of Parks and Recreation.
It's one of five outdoor pickleball courts run by the department, a Parks and Recreation spokesperson told the Inquirer. The spokesperson added that, despite complaints, "The pickleball courts are not moving from Water Tower Recreation Center."
Wooden or graphite paddles striking hard-plastic balls perforated like Wiffle balls create a loud noise, less than a second in duration, at a piercing, high-pitched frequency to which the ear is quite sensitive, engineer Lance Willis of Spendiarian & Willis Acoustics & Noise Control in Tucson, Ariz, according to the Inquirer report.
Hearing pickleball smacks all day "just drains the energy out of you," said a 79-year-old neighbor who asked not to be identified because he said he's been harassed by pickleball fans.
Players, many of whom flocked to the sport to occupy themselves during the height of the pandemic, sympathize with the neighbors — to a point.
Player Leonard Dow told the Inquirer, "I recognize what the neighborhood is saying, but we're giving them laughter, diversity of age and race. That's what city life is about."
After her game, Mary Illari said she has heard the complaints:
"You shouldn't buy a house near a court."
There were people who were living on Ardleigh years before the city spent nearly $100,000 to convert three tennis courts into six pickleball courts in 2016, the Inquirer reported. Neighbors said that at the time, they were unaware that the conversion to accommodate the burgeoning appetite for pickleball was occurring.
Neighbors told the Inquirer that they're contemplating a lawsuit against the city. They contend the pickleball courts violate Philadelphia's noise ordinance, which states that sound from a nonresidential property reaching five decibels above background levels is excessive.
To help pay for possibly soundproofing the courts, the Chestnut Hill Community Association has pledged $5,000, said Keith Kunz, the Water Tower Advisory Council president. Grunwald said 15 players have raised an additional $3,000 for that purpose. Sound-muffling curtains or walls would cost around $30,000 and would reduce 50 percent of the noise, Kunz said. Neighbors have said they won't pay.