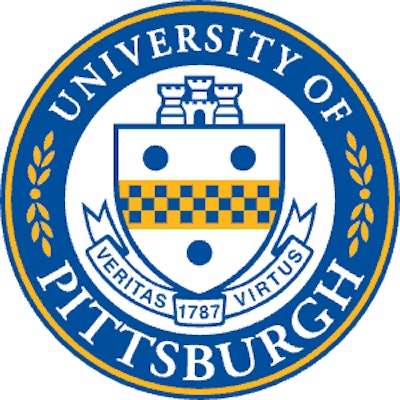 A nine-story recreation center is coming to the University of Pittsburgh campus in 2024, officials said.
The University of Pittsburgh received city planning commission approval Tuesday to build a sprawling nine-story student recreation center in North Oakland, the Pittsburgh Post-Gazette reported.
University officials held a groundbreaking event for the 400,000-square-foot recreation and wellness center in September, which will house gyms, fitness centers, pool and locker rooms. The facility is scheduled to open in fall 2024.
For most students, the new complex will replace the Baierl Student Recreation Center in the Petersen Events Center, which will revert to use by Pitt Athletics. The center will be built at the site of the former O'Hara Street parking garage and Pitt's Learning Research & Development Center, both of which were demolished last year.
Columbus, Ohio-based Moody Nolan, which is among the largest African American owned and operated design firms in the U.S., is providing architectural services for the development.
The benefits expected from the new state-of-the-art facility include:
Total Health and Wellness Destination – From recreation and fitness areas to yoga and meditation spaces, this innovative multi-story facility will encompass all aspects of health and wellness, taking a holistic approach to support and enrich the student experience. The Center, estimated at 270,000 sq. feet, will include additional amenities under consideration, such as a recreation pool, jogging track, weight-lifting equipment, basketball and volleyball courts, and more.
Sustainability – In addition to physical and mental health benefits, the new facility will target LEED certification and is expected to include ample natural light and energy efficiencies, sustainable stormwater management and biophilic design elements, a showcase for sustainable design that will support Pitt's leadership and commitment to sustainability.
Connectivity – The welcoming facility will provide an inspiring connection point in the heart of campus, centered on bringing people together around better, healthier lifestyles.
Utilities Infrastructure Improvements – Utility infrastructure upgrades to power, chilled water and sewer lines will support and enable the campus master plan and future Campus Recreation and Wellness Center, creating the resiliency and redundancy needed to support a preeminent research University.
Road and Pathway Improvements – University Drive is planned for reconfiguration to create a more pedestrian-friendly and sustainable hillside while providing more convenient access to upper campus and the new Campus Recreation and Wellness Center.