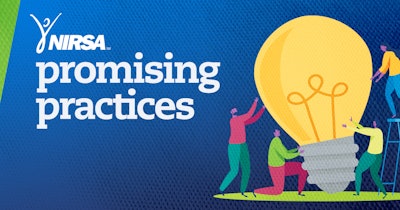 Courtesy of NIRSA
By Becky Lewis, NIRSA Communications
NIRSA is pleased to be able to continue sharing the work of the first three universities recognized as Promising Practices. These institutions were recognized for the efforts of campus recreation staff and leaders who helped implement wellbeing campus-wide to support their respective campus communities. Each institution wove their unique perspective of a wellbeing model into their campus culture.
Promising Practices debuted in July 2021 with Oakland University. Since then, Rowan University and the University of Colorado, Colorado Springs have shared their Promising Practice highlights with scores of Association members in hopes of inspiring and supporting others to implement and build wellbeing momentum on their own campuses.
Since the launch of the Promising Practices campaign, and as we emerge from the COVID-19 pandemic, the climate in higher education and on campuses around the country has continued to evolve. Mental health, student enrollment, changing work environments, and budget issues are just a few of the challenges that have forced all three Promising Practice institutions to think differently about perseverance and how to move the needle on their goals and objectives. Continuing to build an integrated wellbeing model and healthy campus culture has taken creative thinking and required an out-of-the-box approach to managing facilities, reaching students, and delivering programs.
Join NIRSA on Dec. 1
Join Oakland University, Rowan University, and the University of Colorado, Colorado Springs staff on Dec. 1 at 1 p.m. Eastern/10 a.m. Pacific as we find out "Where are they now?" This roundtable discussion to catch up on what the biggest challenges have been for each institution since launching their Promising Practice. Hear from their professionals about what has been the most consistent element throughout the implementation phase or what one thing has produced the best results for their institution so far. Discussion will include insight on how the staff has handled challenges and how the most consistent element has been determined and results have been celebrated. Finally, join in on some Q and A to get a better picture of what the next steps are for all three institutions in moving forward positive outcomes that benefit the entire campus community.
The event is free for all NIRSA members and individual nonmembers at NIRSA member schools, thanks to support from the NIRSA Foundation. The event is open to nonmembers for $25.
NIRSA thanks the generosity of donors to the NIRSA Foundation for their support. Philanthropic support helps NIRSA continue its role as a driving force in an integrated approach to health and wellbeing on campuses across North America.
Becky Lewis is the associate director for Programs and Administration for University Recreation and Well-Being at Oakland University.