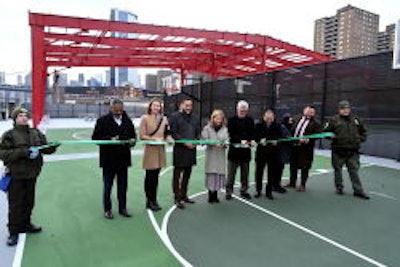 Courtesy of NYC Parks/Malcolm Pinckney
On Tuesday, New York City Department of Parks & Recreation Commissioner Sue Donoghue, other officials and community members gathered to cut the ribbon on the NYC Parks' new recreational deck at Pier 42.
The new $26.1 million, 2.8-acre deck was transformed from a former industrial maritime site by NYC EDC. It features a variety of amenities including a turf soccer field, tennis courts, half-basketball courts and more.
"The opening of the deck at Pier 42's new waterfront space — an ESCR mitigation project promise kept — includes recreational amenities from fields to ADA accessible picnic tables, ensuring that the Lower East Side residents have even more access to our parks," Donoghue said, as reported by TheCityLife.org. "It's wonderful to celebrate this new open space that is sure to be as utilized and beloved as it is breathtaking."
NYCEDC president Andrew Kimball said the creation of new open spaces in Manhattan is rare. "This project is just part of the larger redevelopment of Pier 42, and we look forward to standing with our partners in city government for the ribbon cutting of the full park late next year."
The Pier 42 Upland Park is a long awaited new waterfront open space with a new playground, comfort station, walking paths, and lawns.
The project included repairs to the deck at Pier 42 and installation of sports fields to facilitate additional recreational space during ESCR construction.
"New York City's comprehensive approach to coastal resiliency is protecting neighborhoods from flooding while also creating new recreation areas and better waterfront access in East River communities," said NYC Department of Design and Construction Commissioner Thomas Foley. "Pier 42 sits at the nexus of two major DDC projects – East Side Coastal Resiliency and Brooklyn Bridge-Montgomery Coastal Resiliency – which together will form a 3.2-mile flexible flood barrier protecting more than 150,000 residents in this low-lying and vulnerable area, many of whom are in public housing that was severely affected by Superstorm Sandy. Instead of just building walls, DDC, NYC Parks and other City agencies have taken this opportunity to transform the coastline as well with better access for residents and visitors."
The East Side Coastal Resiliency project is a $1.45B flood protection and park improvement project at East River Park.
The NYC Parks Department said in a news release that it is working on a related project to develop Pier 42's passive "upland park" section, which is slated to be completed late-summer 2023. The Upland Park was conceived as part of the Pier 42 master plan, created by Parks in 2012. The upland park will provide much-desired green space for the densely populated Lower East Side neighborhood. The pathway network throughout the linear park is inspired by the flow of water — a primary path with offshoots along its weaving line. It will also include an entry garden, a playground, and a comfort station. The upland section of Pier 42 is funded with $33.66 million from Lower Manhattan Development Corporation, Mayoral and NYC DEP.
With a total of eight new acres of parkland, the two Pier 42 projects—representing a $60 million investment for the Lower East Side community—will expand waterfront access for New Yorkers near and far.