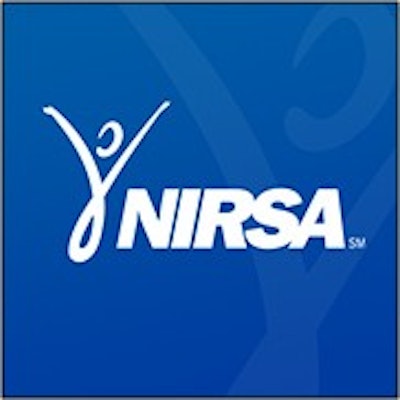 By Rachel Marcella, NIRSA
NIRSA is able to support the campus recreation field and help members make a difference because of its dedicated volunteers — and there are some benefits for you, too:
How to apply
There's one application and it includes a comprehensive list of all committee and work team opportunities for NIRSA, the NIRSA Foundation, and the NIRSA Championship Series. You can select up to three groups you're interested in being a part of this coming year. The order in which you select your groups will constitute your preference(s) and will be taken into consideration during the committee selection process.
Additionally, applicants are asked to state why they're interested in these groups. This provides the selection committee with knowledge about the applicant's experience and interests so they can formulate well-rounded committees and work teams. Members who are currently serving in a one-year position on a committee or work team and wish to continue their service need to reapply to be considered for the upcoming year.
Applications are due by Feb. 9. Please visit our website for full details about the NIRSA committee application process. With the leadership year starting May 1, the committee and work team appointments will be made in Spring 2023 and announced before the 2023 NIRSA Annual Conference & Campus Rec and Wellness Expo taking place in Pittsburgh, Pennsylvania from March 23–26.
For more information about the process or about volunteer opportunities, please join our Volunteering with NIRSA Information Session on Tuesday, January 17 at 1:00pm Eastern/10:00am Pacific.
Why apply
We asked current volunteers why they volunteer, especially considering all the responsibilities our members are juggling.
Benefit #1: Volunteering can help drive your career where you want it to go
"In every volunteer role, I have been able to reflect and find an experience or set of skills that have been transferrable to my day-to-day work and to my education and advancement as a professional in collegiate recreation," says Lexi Chaput, Senior Assistant Director of Programs at the University of Michigan-Ann Arbor.
"The experience I have gained on the Foundation Board has been invaluable to my career," adds Lexi. "While the role's most direct focus is on the success of the NIRSA Foundation, fundraising is fundraising and the experience, skills, and education I've received on everything from fundraising best practices to showing gratitude has been transferable. This education allowed me to have more effective conversations and build relationships with our development office on campus, taught me how to coach and advise club sports on cultivating donors, and eventually led to a promotion into a position that includes development."
Larry Mellinger, Director of Campus Recreation & Wellness at Elon University, adds, "As a young professional, I was able to develop as a sport programs professional through what is now called the Championship Series. As my career evolved, so did my volunteer work. Serving on the Government Affairs Committee helped me to learn about the impact of policy and legislation at the state and national level on our work. I was recognized at my current institution for my role as a faculty member with the NIRSA School of Collegiate Recreation. And my current role on the NIRSA Foundation Board has been instrumental in helping me learn more about advancement work as we begin a facility construction project on campus."
Benefit #2: Volunteering can make you happy and being happy is good
"I see volunteering as part of my own wellness journey. While it might sound counterintuitive, volunteering sometimes acts as my rest time. I am recharged in spaces where I can share passions and experiences that benefit the field of campus recreation," says Amber Mateer, Associate Director of Campus Recreation at Plymouth State University.
Max Miller, Assistant Athletic Director for Recreation, Wellness, and Physical Education at Swarthmore College, adds, "As a leader within the NIRSA Foundation and the NIRSA Championship Series, my favorite part is feeling the energy brought by other volunteers looking to leave their mark on the association."
"I enjoy meeting new people and working with folks who have similar interests as I do. I love that we come from different backgrounds and work experience, but we are in it together because we are members of NIRSA and we want to work for the betterment of NIRSA and recreation as a profession," says Silvia Chan, Senior Associate Director at University of Connecticut.
Benefit #3: Networking is just plain awesome
"Through the volunteer opportunities that I have had with NIRSA, I have met so many great professionals, and they have become amazing colleagues. Ones that have helped me broaden my knowledge base and others that have become mentors. I have never regretted spending time volunteering for an event or for a committee. I have learned with every opportunity, and that is an amazing feeling, "adds Silvia.
"By encouraging my staff to volunteer, we have cast a wide networking net. We have all worked through turnover the past few years, and that has been no different at Elon. What I have seen, however, is that we have continued to have strong candidate pools for all of our positions," says Larry. "When I have talked to candidates and ask them the standard 'Why are you interested in this position' question, every candidate has talked about some level of a personal connection—meeting someone at a conference, working with them on a committee, attending a webinar that one of our staff was facilitating, etc. Networking has always been important, but never as much as it is today. And volunteering is a great way to do so."
Apply by Feb. 9
There are many opportunities (and reasons) to volunteer, so apply today.
Rachel Marcella is the Membership & Leadership Coordinator at NIRSA.