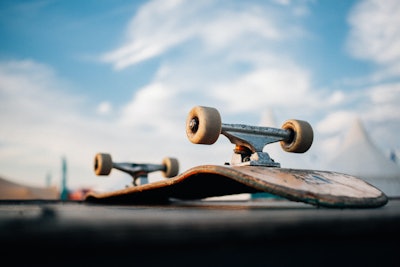 File Photo/Unsplash
A city in Connecticut has approved the funds needed to remove a beachside skatepark that one official described as an "eyesore."
The West Haven City Council will spend $23,525 in American Rescue Plan Act funding to remove the cement Savin Rock Skate Park on Beach Street, the New Haven Register reported Friday.
The skate park, which was built in 2004 for $96,000 by a company based in Massachusetts, has deteriorated due to vandalism and flooding, and fallen into disrepair and disuse.
Councilwoman Meli Garthwait said she was "excited" to see the structure in her district being demolished.
"It is an eyesore on Beach Street and has not gotten much use that we have seen in the last few years other than being a place for homeless to set up camp," Garthwait said, as reported by the Register.
West Haven set to demolish skate park 'eyesore' https://t.co/hp0yIH1kzP

— New Haven Register (@nhregister) January 27, 2023
Ernie Chiarelli, the city's sidewalk inspector and the project manager for the demolition, said in a statement that a city project to elevate Beach Street to better protect against flooding and erosion would affect about 25 percent of the park's fence line and would require at least $60,000 to relocate the park.
Neil Cavallaro, superintendent of West Haven Public Schools, told the Register that there still are activities available to youths, and that the district offers numerous after-school sports options as well as fine arts programs and clubs.
"We also work very closely with agencies like the West Haven Community House who offer after-school programs at our elementary schools and Carrigan (Intermediate School)," he said. "I know that kids who do skateboard are very passionate about that sport. Hopefully, they can use this as an opportunity to look at some of our offerings."
Some experts, however, said a major appeal to young skateboarders is the sport's lack of affiliation with more structured recreational activities.
Steve Roberts, leader of the New Haven-based Push to Start Skate Program, said some youths may turn away from school sports, which require attendance at regular practices and drills and enforce a coach-player dynamic, while skateboarding is a less regimented recreational activity that is associated with a strong subculture and community that can instill a sense of pride and belonging. Older skaters like Roberts are role models more akin to older brothers than teachers, he said.
Through the Push to Start program, Roberts hopes to engage youths to learn self-confidence and life skills through skateboarding.
"Skateboarding is low-barrier to entry, it's self-starting and you can practice," Roberts said.
Roberts recalled the Beach Street skate park as "a cool spot" when it was first built, but now believes demolishing the skate park is "the right step" because it is in disrepair due to years of neglect and a lack of upkeep and maintenance.
"It just looks like it hasn't been shown any love. It looks bad," Roberts said.
He said the location near the beach means the park would require more effort to maintain, because salt from the water can damage the structure, and sand blowing into the park creates unfavorable skating conditions.
"We did get a good deal on it," said ARPA committee chairman Ken Carney. The vote was added to the agenda because Carney said he was worried the vendor, Cerilli Construction LLC, might walk away if there were more waiting because the contract had been awarded in November.
"Maybe (West Haven) can make a commitment to developing a skateboarding committee" if developing a new skate park is in the cards in the future, he said.
Roberts said skateboarding may have become less popular in West Haven when a major skate shop in New Haven moved closer to that city's downtown. In New Haven, he said the skateboarding scene is thriving — in 2020, New Haven opened a skate park in Scantlebury Park.
The city announced demolition is expected to begin in two weeks and will last 10 days.