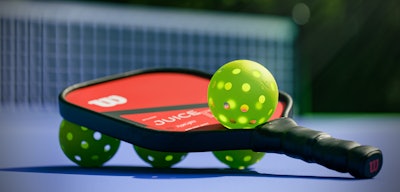 Recreation pickleball players in Arlington, Va., and neighbors who are fed up with the noise are working to resolve the issue, but don't agree on how.
DCNewsNow.com reported that neighbors near the Walter Reed Community Center have said the noise from pickleball is loud, constant and disruptive. The County's Board of Supervisors is nearing a discussion of how to alleviate their concerns.
Avid pickleball players and residents of 16th Street S — the road adjacent to the courts — told DCNewsNow something should be done, but disagreed on exactly what that should be.
Some homeowners living near one community center in Arlington County feel they're in a bit of a pickle. https://t.co/4aILuRrwQ7

— DC News Now (@DCNewsNow) March 21, 2023
"This is our athletic opportunity, yes it is," said Bruce Shuttleworth, who told DC News Now on Monday he's been playing the sport since 2020. "But it's also like chess club, it's like book club, it's almost therapeutic."
Shuttleworth said there's a community of people who love playing the sport, but some neighbors have said the noise is too much.
One nearby resident told the county's board it's too much "for a father trying to put his two-and-a-half-year-old kid to bed at 7, 8 o'clock to hear, 'ping, ping, ping, ping, ping.'"
Arlington County is considering replacing the tennis and basketball courts at the community center, where pickleball is currently played, with actual pickleball courts — at the same time, it would incorporate some sound reduction measures.
"I'm sure it's fun, I've gotten lots of invitations to play, but the problem is [the players] come and play for an hour or two, and then go home," said Mary McKee, who lives across the street from the courts. "I can't go home. I'm here. So your game is in my house all the time."
McKee said a short-term solution would be changing the hours of the courts to reflect the community centers' hours.
"If you want to sleep in on a Saturday, forget it," she told DCNewsNow. "People are out before 7 a.m. If you want to go to bed before 10 p.m., forget it."
Shuttleworth agreed and said the noise problem is legitimate, but he thinks the best course of action is to treat it while growing the game — proposing things like noise-abating infrastructure.
"For some reasonable investments, we can attenuate the noise and have it be great fun for us and great fun for them," he said.
Christian Dorsey, Arlington's board chair, said he expects the county manager to provide a policy update at the board's April meeting.