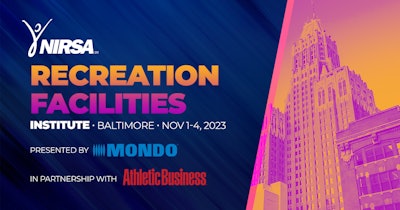 By Nick Zumbrun, assistant director of learning at NIRSA
NIRSA is excited for the 2023 NIRSA Recreation Facilities Institute, presented by Mondo, in partnership with Athletic Business Media. The event will take place in Baltimore from Nov. 1-4.
The success of this event depends on the willingness of professionals to share their knowledge with others. We're looking for recreation professionals to submit a proposal for facility operations; risk management and security; or facility planning and design.
If selected, one speaker per session receives coach airfare, one night's lodging, $75 for miscellaneous expenses and a complimentary registration. Additional speakers in a session may receive a complimentary registration.
Please submit your proposal by April 14! Speakers will be selected and notified in May.
Why attend?
The NIRSA Facilities Institute, presented by Mondo, is a unique part of the AB Show that will focus on collegiate recreation. Registering for the 2023 Facilities Institute gives you access to the rest of the AB Show Expo and Conference, which will feature over 125 sessions and 250 exhibitors.
The AB Show also offers preconference facility tours that will be announced soon, so stay tuned.
Early bird discounts
Early bird registration rates are available until Aug. 14! Why pay more later when you can save money by registering today?