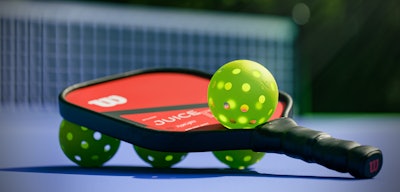 File Photo/Unsplash
Noise issues have prompted the Denver Parks and Recreation department to drop pickleball from a park and abandon plans to build a new court for the growing sport.
The department said it will remove pickleball from Congress Park starting this week, KUSA-TV reported. Parks officials also said the department will no longer build a pickleball court at at Sloan's Lake Park.
The move comes after neighbors near the Congress Park court complained to the city about violations of the city's noise ordinance, the news station reported. An inspector found sound levels relating to pickleball at over 70 decibels in some residential locations near the court, according to records obtained by KUSA-TV. City ordinance only allows for 55 decibels.
"Clearly at these homes along this site ... it is violating the noise ordinance," Denver Parks and Recreation deputy director Scott Gilmore said.
The court planned for Sloan's Lake Park is only about 100 feet away from homes, Gilmore told KUSA-TV. He said the current guidance he's gotten from researching sound abatement found pickleball courts need to be 500 feet or further away from homes.
The Congress Park court and surrounding tennis courts were already slated to close for a maintenance project on Monday, which includes abatement of asbestos in the concrete.
Denver Parks and Recreation originally planned to move the pickleball courts away from homes along Detroit Street and further into the park but abandoned that plan after researching the noise issue.
KUSA-TV obtained complaints about the park, which included neighbors lamenting the parking situation, trash, players having Door Dash and alcohol delivered to adjacent homes and noise.
"It has taken my true joy of living on the park away as now the noise and continuous congestion has become a true nuisance to my family and me," one neighbor wrote in a complaint.
"I am saddened to write you today that the noise emanating from pickleball played in this beloved park has become illegally loud, unhealthy — and simply untenable," another neighbor wrote.
Gilmore said it would be "irresponsible" to bring pickleball back to Congress Park, but he said the department would look to find a park that's right for the sport.
More than 1,400 people belong to the Congress Park Pickleball Club on Facebook. The group's chairman, Marc Nelson, said people come from all over the metro area to play on the small court.
"This is a new thing that's kind of sprouted out since the pandemic and these courts were here," Nelson said.
Nelson said the large group tries to police itself, once banning someone who consistently parked illegally in the alley next to the court.
"We have some boisterous pickleball players… we try [to tell them] 'Hey, remember our neighbors.'"
He said the small court has created a community of people who love the sport and bond over it.
"Pickleball is legitimately the fastest growing sport," Nelson said. "If the continual rate of growth continues…by 2040 there will be 40 million people playing pickleball which will surpass any sport in the U.S."
Nelson acknowledges the game is loud and said his club has even offered to crowdfund for sound barriers to ease the noise to the nearby neighbors.
"The paddles that we use are carbon fiber and the ball it just has a 71-decibel sound, where the minimum level's like 61," he said. "So, it is a little bit of a pop to it."
"I get constant updates from my watch that I'm in a loud environment," he said.
Nelson told KUSA-TV that the issues at Congress Park show the demand for a bigger pickleball facility.