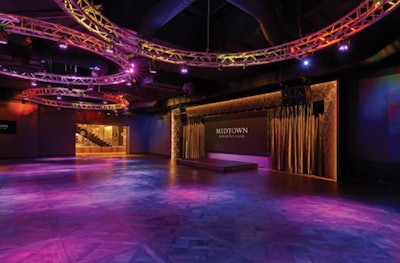 Courtesy of DMAC Architecture. Photo by Anthony Tahlier.
Cleaning staff at Midtown Athletic Club, located in the Bucktown neighborhood of Chicago, left their shifts Saturday morning to protest the gym laying off workers after they spoke out about their employment concerns.
As reported by nonprofit local news organization Block Club Chicago, Midtown notified the staff members they'll be let go May 1, and that their positions will be filled by an outside company, according to a news release from Arise Chicago, which helps workers organize.
Employees said they think the company is retaliating against them for speaking out about the ways their safety has been jeopardized at work.
The workers have demanded the company allow them to keep their jobs and end retaliation, with a response deadline of April 7.
"We are not here to cause problems. We just want to keep our jobs," said Nadia Don, who has worked at Midtown Athletic Club for three years.
Midtown Athletic Club did not immediately respond to Block Club Chicago's request for comment.
The workers have filed complaints with the Illinois Department of Labor, Chicago Office of Labor Standards, National Labor Relations Board and Occupational Safety and Health Administration, Block Club Chicago's Kayleigh Padar reported..
Specifically, workers claim Midtown Athletic Club refused to provide them with adequate sick leave and endangered workers by exposing them to unsafe cleaning chemicals without proper protective equipment.
"My colleagues and I have been organizing for six months to improve our working conditions," Don said. "We wanted to create a safer environment for ourselves and for customers. … We realized we were suffering from employment violations of Chicago and federal laws, like a fair work week, sick days, safety and health issues, and the right to organize."
Workers facing termination were told they could apply for jobs at the new company, Don said, but they wouldn't receive any benefits and there was no hiring guarantee.
On Saturday, workers chanted, "If you exercise at Midtown, help us exercise our rights," while handing out flyers urging gym members to contact Midtown Athletic Club's leadership in support of the workers being allowed to keep their jobs.
Robert Bloch, a Midtown Athletic Club member who is also an attorney, said he enjoys working out and playing tennis at the club's "beautiful facilities," but added replacing the cleaning staff with contractors will worsen conditions at the gym.
"We know that the workers for that contractor will be paid less; that's why they do it," said Bloch, told Block Club Chicago. "I'm sure those workers will work hard, but the reality is if they're paid less, they won't be able to keep their jobs as long. There will be more turnover. They won't be working for the benefit of the club; they have to work for another employer. We've all seen this before — the quality of the services will go down."