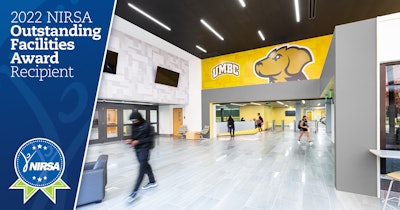 The availability of high-quality recreation programs and facilities can be influential factors on student matriculation and graduation. Not every college or university is in a position to break new ground for state-of-the-art recreational facilities. The University of Maryland, Baltimore County's Recreation and Athletics Center renewal project is an outstanding example of how a facility renovation can inject new life into a campus community. NIRSA recently decorated this new facility in Baltimore, Maryland with a 2022 Outstanding Facilities Award.
The University of Maryland, Baltimore County (UMBC) serves nearly 14,000 students and the 500-acre main campus is located between Baltimore, MD and Washington, D.C. The "UMBC community redefines excellence in higher education through an inclusive culture that connects innovative teaching and learning, research across disciplines, and civic engagement."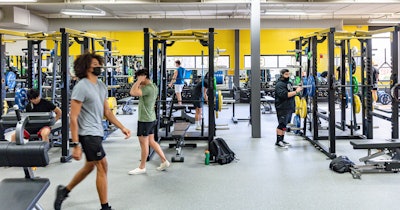 People want to be at the Retriever Activities Center. It's become a welcoming destination with vibrant pockets of activity. The use of color, daylight, visibility, and transparency have raised comfort levels for students and users, who are excited to use the facility and work out in spaces that also provide a common meeting place for commuters and on-campus students.
"We are all honored to be the recipient of the NIRSA Outstanding Facilities award for the Retriever Activities Center renewal project. It exemplifies the commitment that the university has made to the overall health, fitness, and wellness of our students, faculty, and staff at UMBC," says Gary Wohlstetter, Senior Associate Athletic Director at UMBC. "We've been able to expand our programming in all phases of our recreation, which has resulted in a 25% increase in participation. The 'New RAC' is now the place to be on campus. It's a hub for our community to engage and connect with the focus on wellbeing," he adds.
About the Retriever Activities Center
UMBC's Retriever Activities Center (RAC) provides the campus community with access to a fitness studio, weight room, cardio balcony, arena track, an aquatics center, and more. The newly renovated facility introduced a bold transformation for the UMBC campus. The RAC engages students, faculty, and staff, providing more programs and activities with a focus on fitness and wellbeing.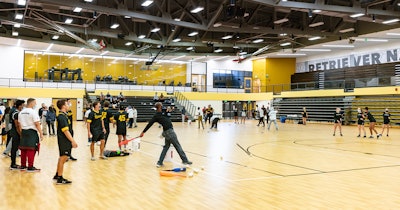 The facility has already made a positive impact on the current users and will have an even greater impact on new Retrievers who have yet to join Retriever Nation. One of the primary goals of the UMBC Strategic Plan is to provide a vibrant student experience, to "create vibrant, exceptional, and comprehensive undergraduate and graduate student experiences that integrate in- and out-of-classroom learning to prepare graduates for meaningful careers and civic and personal lives." The RAC is the perfect place for Retrievers to have these experiences.
While the renovation project did not add square footage to the footprint of the building, creative insertions and repurposed, reimagined spaces have created a wide range of equipment, fitness, and recreation options for the UMBC community, including:
18,463-square-foot multi-purpose gymnasium, composed of a urethane surface and fitted with nine traditional basketball hoops; the gym can be divided into three separate courts to be used for a variety of recreational and intramural sports and activities, including indoor tennis, lacrosse, soccer, flag football, etc.
3,257-square-foot recreational weight room
2,526-square-foot auxiliary gymnasium, or fitness studio, fitted with a hardwood, polyurethane floor, as well as a full wrestling mat; it can be used for a variety of purposes including fitness classes, martial arts classes and clubs, ballroom dancing, and as a practice area for the club wrestling team
2,191-square-foot lobby
Fitness, cardio balcony, equipped with a variety of state-of-the-art treadmills, elliptical machines, and stationary bikes
All-access, gender-neutral locker rooms
While an overwhelming majority of the budget went to mechanical, engineering, and plumbing (MEP) improvements, the impact from the remaining funds to the building and its function is impressive. The planning of the building was dramatic in its approach to fitness and wellness offerings, and the actual project exceeded expectations, leading to a dramatic increase in diverse programming, flow, and functional usage.
The multipurpose nature of the spaces allows for simultaneous use that wasn't possible before. Increased storage eases the multifunctional use of many spaces throughout the building. Student groups and organizations now use the building for meetings, dances, and other activities that previously weren't supported. Since the renovation, clubs have been thriving and intramural participation is at an all-time high.
Many different activities can now take place simultaneously across ten distinct fitness spaces—a dramatic increase from the four that were available prior to the renovation. The RAC has become much more than a recreation facility for the campus; the Provost, Academic Affairs, Academic Departments, Student Life, and Admissions offices are all hosting programs and events in the facility. Events coordinated with community are also being hosted at the RAC.
Popular activities like badminton can be set up easily and kept in place without monopolizing valuable program space. Since the renovation, the ventilation has dramatically increased, improving comfort and energy efficiency of the RAC. The combination of new lighting and the use of natural daylight throughout the building enhances the overall experience for those using the RAC. The design team also focused on selecting material finishes with low volatile organic compounds and with Environmental Product Declarations.
Importantly, Retriever Essentials, the campus' food pantry, has found a new home in a discreet location with expanded operating hours within the RAC.
The project strengthened the relationship between the facility and the individuals supporting the operations, programs, and services offered through the UMBC Recreation Department. Additional staff were hired to support the functional fitness and other exercise options that didn't exist before. A new wellness coordinator is expanding the range of program offerings within the facility. The opening of the new RAC now has double the number of student staff, and the improved flow of the building allows the student workers to better circulate throughout the building during their shifts.
"One of the most satisfying outcomes of this project is the wide variety of space types UMBC students now have at their fingertips for fitness, exercise, and wellness. We worked closely with the rec department at UMBC to greatly enhance opportunities for program offerings supported by a wide variety of dynamic environments to appeal to every type of user," says Bill Massey, AIA, LEED AP, Principal Architect at Sasaki.
About the lead architect
The Retriever Activities Center was designed by Sasaki. Sasaki is an international firm consisting of more than 300 team members from 30 different countries. Their architects have worked on diverse projects worldwide, from the Moscow International Financial Centre to the United States Embassy Campus in Chad to Xuhui Runway Park, designed on the site of a former airport runway in Shanghai, China. Sasaki architects have also designed numerous recreation and wellness centers for colleges and universities across the U.S.
For the firm, which has been a NIRSA member for more than 25 years, sports and recreation venues enrich lives through shared experience; they bring people together to play, train, compete, and cheer. "From the creation of new sports districts to the design and implementation of indoor and outdoor facilities for campuses and communities around the world, our work promotes teamwork, social interaction, personal health, and wellbeing," says Bill.
Driven by the pursuit of "better design, together," Sasaki's work encourages personal growth and demonstrates a commitment to history and diverse perspectives while maintaining a curiosity about new ways of thinking. The firm's founder, Hideo Sasaki, was an early champion of bringing diverse design perspectives together to strengthen ideas and outcomes. Sasaki intentionally invited multiple thinkers to the table and that table has only expanded over the years to bring more people around it.
With more than 800 awards in its 65-plus-year history, Sasaki strives to "define the future of place" with design practices that celebrate diverse perspectives, blend disciplines, and thrive on evolution. It was honored with a NIRSA Outstanding Facilities Award for its contributions to UMBC's Retriever Activities Center—one of three Sasaki projects to receive the award in 2022.
"Sasaki is grateful for the partnership of Marshall Craft and Associates who served as the architect of record for the RAC renewal project," Bill adds.
About NIRSA's Outstanding Facilities Award
The annual NIRSA Outstanding Facilities Awards recognize the innovative designs of new, renovated, or expanded collegiate recreational facilities of NIRSA member institutions. Winning facilities are considered a standard by which other campus recreation facilities should be measured, and from which others can benefit.
Applications for the NIRSA Outstanding Facilities Award recipients are open during the fall. Eligibility guidelines, selection criteria, and entry fee details can be found on the NIRSA website.