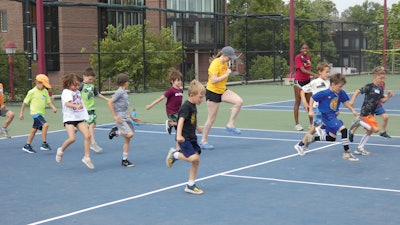 Photos courtesy of the University of Denver
This summer marks the 28th year the University of Denver is offering summer camps, introducing sports and wellness activities to area kids. For 13 weeks, from late May to mid-August, 200 participants between the ages of 5 and 11 will attend the university's Pioneer Athletic Super Summer (P.A.S.S.) Camp and experience what it's like to play on NCAA Division I fields, courts and ice rinks. Programs are focused on everything from yoga and martial arts to soccer, golf and ice skating, and each week's offerings differ. What's more, P.A.S.S. Camp is a licensed childcare program.
No wonder all of the 2023 sessions sold out almost immediately this past spring.
"There was a need from faculty and staff at the university — and then, obviously, from some of our partners in the community — for childcare during the summer," says Stu Halsall, DU's associate vice chancellor of the James C. Kennedy Mountain Campus, Wellness, and Recreation, who oversees summer camp programs. "And there's certainly a business component to what we do. I mean, we have to support many other programs through revenue generation with this type of programming, in part because we do not have a student fee structure."
But revenue generation isn't enough to drive successful camps. "I don't think that should be the answer for why you do this," Halsall says. "I think it should be based on a need from your community, providing a childcare solution for faculty and staff, engaging with alumni. I've always tried to think of what we do as part of our mission, something more strategic to the university than the dollars-and-cents equation. I'm not discounting that; I just don't think it can be the only factor in play."
Not all fun and games
Certainly, summer camps offer a way to fill otherwise-dormant sports and recreation spaces on campus while boosting revenue and jumpstarting student recruiting. But funding and staffing issues can be a significant challenge. P.A.S.S. Camp and the University of Denver's smaller, more specialized gymnastics and ice hockey sports camps, for example, require about 120 staff members each summer — most of them students from club sports and athletics, as well as education majors, area teachers looking for summer work and retired educators who miss interacting with kids.
Funding and staffing shortages were enough to halt — at least temporarily — the summer camp program at Old Dominion University this year. Based at the university's Student Recreation Center, Big Blue Summer Camp combined theme-based academic endeavors with physical activities for about 80 kids between the ages of 6 and 12 per week. By partnering with other on-campus entities, participants learned about bugs (entomology department), writing (education department), sea life (coastal and physical oceanography department), cooking and baking (food services) and other subjects.
And — after receiving initial startup funding from the university in 2009 — the camp was entirely funded by ODU's campus recreation department and needed to remain self-sufficient. This year, however, officials recognized the need to pay camp counselors a higher wage than in years past while also covering the soaring cost of lunches for campers, and they had to give Big Blue the red light.
"It was a really hard decision for me," says Jean McClellan-Holt, associate director of recreation, programs and wellness at Old Dominion. "I created this camp back in 2009 and built a great reputation in the community. When it finally sunk in, I thought, 'Camp is over for good,' and I will be honest, I cried. But now, I'm thinking that maybe it's not completely done."
One option, she says, involves teaming up with Kidcam Camps, a NIRSA associate member that partners with colleges and universities, parks and recreation departments, and other public and private entities to offer fully staffed weekly day camps that incorporate sports, creative arts, STEM concepts and other activities.
Kidcam is entering its 49th summer and runs 10-week camps at more than 30 locations in Louisiana, Alabama, Georgia and Kentucky — including Kennesaw State University, Western Kentucky University and Middle Georgia State University. With more than 400 seasonal employees (mostly teachers, coaches, and college and high school students) and 4,000 campers, Kidcam is accredited by the American Camp Association and provides a turnkey summer camp operation.
The organization pays a college or university to rent space, via either a flat fee or a shared-revenue arrangement. Kidcam, in turn, generates revenue via participant registration fees that cover staffing, meals and more.
"We're relatively new to the university sector," says Melissa Conner, Kidcam's president, adding that expanding beyond the Southeast to more institutions of higher education is a top priority. "In the past three years, there's been an increased recognition [among campus recreation professionals] that, 'Hey, we can do a program like this, we can showcase our facility to a younger audience, and we don't have to do it ourselves.' "
"We support universities by participating in some of the events that are happening on campus," adds Kandi Patterson, Kidcam's vice president of operations and new site development. "We look for ways to not only build the camp but also to build the brand for the university with younger kids."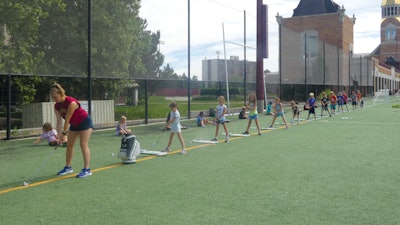 'Important for a lot of kids'
Campus recreation professionals considering launching a summer camp or restructuring an existing one should consider their community's specific needs and commit to meeting them for reasons beyond financial concerns. Here are three other tips:
• Know the rules. They are going to be different based on locale. "You have to understand the requirements within your city," Halsall says. "In Denver, you can offer a single-sport camp, and it's exempt from childcare licensing. But the type of programming we offer, which is multisport, has to be licensed."
• Engage on- and off-campus partners. Whether performing background checks on camp staff members or planning specialty programming and field trips, communication and cooperation with local law enforcement professionals, human resources officers and others will be critical.
• Plan ahead. Will the rec center gymnasium be resurfaced next summer? Is on-campus greenspace slated for development? How will routine maintenance and other university requests for space impact camp schedules? "We try to be five years out in our thought process, minimally, for what we're doing and developing," Halsall says, adding that outreach via hiring fairs and other strategies is critical to making sure camps will be fully staffed when they open. (Kidcam Camps typically require about an 18-month startup time.)
Summer camps, when strategically developed and implemented, can leave a lasting impact on colleges, universities and especially campers. Just ask McClellan-Holt, who hasn't given up on bringing summer camps back to Old Dominion.
"It's important for a lot of kids," she says, recalling one Big Blue Summer Camp excursion to a local medical center to tour the Nightingale helicopter, a regional air ambulance. "I remember this one camper, engrossed in a conversation with the flight nurse for I can't tell you how long. Her mom, who is a professor on campus, told me her daughter came home from camp that day and said she wanted to be a flight nurse. Not just a nurse, but a flight nurse. That sticks with me."