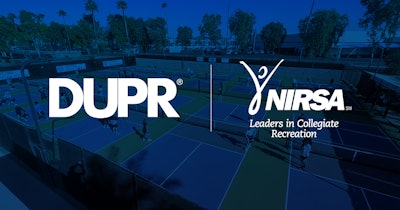 By Valerie McCutchan, NIRSA director of National Sports Programs
NIRSA and Dynamic University Pickleball Rating (DUPR) — an accurate pickleball Global Rating System that is free for all players, professional tours and recreational players alike — are teaming up to enhance and grow pickleball on college campuses.
In 2022, DUPR successfully launched a Collegiate Pickleball National Championship tournament, which featured 16 co-rec teams vying for the National Champion title using the same unique team format that is used in Major League Pickleball.
Do you have pickleball on your campus?
Be on the lookout over the coming weeks for more details about grant opportunities, information on how to create pickleball opportunities on your campus, and a survey about what pickleball participation opportunities NIRSA members are already offering on their respective campuses.
The new NIRSA and DUPR partnership will aim to:
advance pickleball in the collegiate setting, offering equipment and blended lines kits to members;
promote tournament opportunities for students;
grow the number of active pickleball sport clubs on college and university campuses; and
provide grants for hosting informational displays at campus events such as back-to-school week and promoting the ML Pickleball Rules and Regulations (rally scoring) as the official rules for tournament and recreational play.
"We're already hearing from NIRSA members from across the association who are excited for the chance to grow pickleball opportunities for students on campuses across North America," says Pam Watts, CAE, NIRSA Executive Director. "The combination of pickleball's accessibility, its social and active nature, and the adaptability of the sport are all factors that have undoubtedly helped to feed pickleball's rapid growth and popularity across all demographics, and college students are no exception. NIRSA is excited to partner with a true pickleball leader in DUPR—together we're looking forward to growing pickleball opportunities on campuses and helping students stay active and well," she adds.