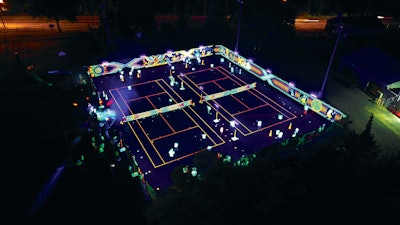 Photo courtesy of XGLOsive
Once a top player among Florida juniors who competed nationally before playing a year of college tennis at Stetson University, Jason Cordova has spent a lot of time on the tennis court. After his brief stint at Stetson, he transitioned to teaching tennis for more than a decade. But by then, he was starting to feel a little fatigued by the game.
"Coming from a competitive background, it's great, but I got burned out when I was playing tennis, just because it wasn't fun anymore," he says. That's when Cordova had an idea for a way that all ages could play the racket sport in an uncharted atmosphere while upping the fun factor.
Creating the XGLOsive experience
Cordova had been teaching tennis for a parks department in Florida, his home state, when he started to get the itch for a different kind of court experience. "During this time I was teaching, something was put in my gut, and I just started playing around with different ideas with blacklights and different fluorescent colors on the courts," he says. "I was teaching tennis at a public park, and my supervisor let me do some testing. I built a model to show her what I was trying to do and sure enough, she let me have one court to have some fun with."
By 2016, Cordova's year-long experimentation had caught the attention of the Florida Section of the United States Tennis Association, which was looking to launch a young adult social league. Laura Bowen, the executive director of the nonprofit USTA Florida, said Cordova was asked to take part in a USTA event on a colleague's recommendation, and although she hadn't seen his concept in action herself, she was getting a lot of surprising feedback working the event desk.
"I'd done a lot of events and this was the first time people were actually getting really mad at me that they could not just play," Bowen says. "I didn't know what was happening on the court, I just knew people were coming up like, 'How do I play in this thing?' And I said, 'You can't, it's a closed event, you had to preregister.' These people were so upset, and I was like, what is happening?"
Play in the dark
The XGLOsive tennis — and pickleball — concept transforms the court into a glow-in-the-dark atmosphere, where the netting, lines, banners and other surrounding elements are illuminated in the night. "All the electrical cords that go around the courts are designed to fit around any tennis or pickleball court. All the blacklights that we use, we tested so many different ways. I'm the one who designs all the banners that go all the way around each court and the nets. We want as many things glowing as possible."
The rules for XGLOsive play are a little different — it's a game, not a competition, Cordova says, and everyone plays together. There are fog machines, spotlights, strobes and music, too, making the court more social and taking the pressure and competitiveness out of it. Bowen says it's like being in a video game.
"I would describe it as if you were to put an Oculus on, and then you're immersed in it," she explains. "To me, it's sort of bringing a video game to life on a tennis court, which is kind of a magical experience."
Cordova says part of getting XGLOsive off the ground was the support and backing from USTA Florida. "USTA Florida believed in what we're doing, and saw how much attention it was getting at that level, and decided to sponsor us," Cordova says.
After the event at which passersby expressed their anger toward Bowen, USTA Florida and Bowen helped put together a 10-stop tour around the state for Cordova, so more people could encounter tennis in a new way, and many more people could partake in the unique experience. "I said, 'Well, I'll tell you, I've never had people that upset that they couldn't play in an event. Whatever you're doing, people want it," Bowen explains.
Eight years into what started as an experiment in court fluorescence, XGLOsive is now Cordova's full-time passion, which he runs alongside his dad, Michael, who does the engineering side of events. From October through April each year, XGLOsive puts on events at racket and sports facilities throughout Florida. The son-father team then travels to other parts of the country, including California, Texas, Arizona, Georgia, New York, New Jersey and Connecticut. Recently, Cordova has expanded to include a basketball version of the experience, and XGLOsive is now able to license and outfit a facility to have its own XGLOsive environment.
The beauty of the night-bright experience is that it's lighthearted in more than one way — and inclusive. As Bowen says: "It's family friendly. Kids, anybody, all ages, all abilities — I mean, really anyone can do it. And that was kind of the magic of it, too. You didn't really have to be good at tennis to have fun doing it."