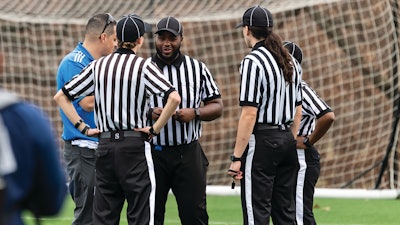 Photos courtesy of NIRSA
Kelsey Jones began officiating intramurals basketball as a freshman at the University of Central Florida in 2011. By her junior year, she was working junior college games, earning $125 for a few hours of work. Today, she's the director of officials for the NIRSA National Flag Football Championships (part of the NIRSA Championship Series) and referees high school basketball and tackle football games in her rural North Carolina community.
"I truly believe I would not be where I am in my professional life — getting a doctorate paid for by a university — if it wasn't for intramural sports," says Jones, who oversaw the training of student officials at Western Carolina University for several years before being named the senior assistant director for leadership programs in the university's Department of Campus Activities. "I'm very passionate about officiating. It's literally my favorite thing to do."
That passion ignites her efforts to recruit intramural officials at WCU during a time when officials shortages are disrupting youth, middle school and high school sports around the country.
According to the National Federation of State High School Associations, approximately 50,000 high school game officials "discontinued their service" between the 2018-19 and 2021-22 academic years. The pandemic was a major factor in that decline, but perennial unsportsmanlike conduct by players, coaches and fans exacerbated the issue, according to Karissa Niehoff, the federation's chief executive officer.
And the problem persists post-pandemic.
"We can go out, recruit and train officials, but we can't retain them," says Darrell Hargreaves, associate director of facility operations for campus recreation at the University of Alabama, where he spent years training student officials. "Many go on to officiate after college, but there's a massive statistic that says officials often leave after their third year. Abuse from fans and coaches, the low pay and the time commitment all combine to make them question whether it's all worth it."
As Erik Jaeke, associate director of programs for the University of Wisconsin's Recreation & Wellbeing Department and director of officials for the NIRSA National Soccer Championships, puts it: "If there are no more referees, there are no more games."
Thanks to its Student Officials Development Program, NIRSA boasts a stellar reputation for its grassroots training of intramurals officials in basketball, flag football and soccer. In some cases, student officials played the sport in high school and want to still be involved in it, while others aren't even familiar with a particular game's rules yet are willing to learn.
And they all have one thing in common: They needed to start someplace, which is where campus recreation leaders like Jones, Hargreaves and Jaeke come in. Students receive multimodality training that typically includes online and classroom instruction, rules clinics, practical training on the court or field, and even officiating-controlled scrimmages prior to working a single game. The best of them go on to officiate regional events and NIRSA Championship Series events (with the exception of soccer, which has long used certified NCAA referees at its national championships). Former student officials can even rise to professional and high-level college games.
"Campus recreation is centered around student development," Jaeke says. "If I'm a student looking at job possibilities on campus, I'm not sure that I'm going to find anything else that's as physically active and also mentally challenging."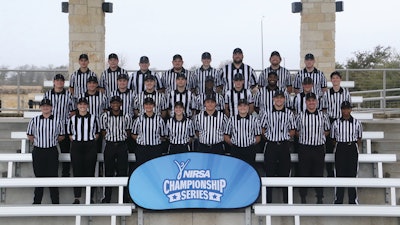 Perks and options
Working as an intramurals student official isn't simply a job. Many of the skills officials develop on campus — from communication, leadership and quick decision-making to conflict resolution, de-escalation and time management — are transferable to practically any career.
"There's a lot more that goes into officiating than just stepping onto a court and blowing a whistle," Jones says. "It's going to preseason meetings. It's working out and getting yourself in shape. It's being in the rulebook every single day. There's a lot of preparation that goes into it, and those are all transferrable skills, too."
"We really sell the camaraderie," adds Hargreaves, who has refereed basketball and volleyball for 23 years, beginning as a freshman in intramural sports. "That's one of the reasons I've been in it for so long. We tell students, 'Here is the group of people you are going to be college friends with. You will share experiences on the field or on the court. You can travel to other college campuses and referee games there.' All of that helps as a recruiting tool for us. We also hand out end-of-the-year awards to recognize skills."
"The job also is inherently flexible," says Jaeke, who began his officiating career as a Little League umpire at age 12 and now works soccer games in the Big Ten and Big East. "Shifts can be changed on a weekly basis. If you're also on an intramurals team and you've got a game — or you've got a test you need to study for — you can make the switch pretty easily."
Despite those on-campus perks, not all student referees will continue officiating in their post-collegiate lives. "There's a significant portion of the students who work for us who have no desire to be a sports official when they graduate, and that's okay," Jaeke says. "But we do really work hard to develop those who want to continue."
Advancement opportunities while still on campus include supervisory positions, and the UW works with the Wisconsin Interscholastic Athletic Association as a pipeline to connect graduates who want to continue officiating with game assignors and training sessions in their respective communities.
Similarly, Alabama offers financial assistance to a limited number of graduate student officials transitioning to youth and scholastic sports to help cover such expenses as fees, uniforms and equipment. Hargreaves also encourages students to consider officiating a sport such as wheelchair basketball. As one of only three referees in the United States certified by the International Wheelchair Basketball Federation, Hargreaves was introduced to the sport when he began working at Alabama and has since officiated at the 2012 Paralympic Games in London and the 2020 Paralympics in Tokyo, as well as the 2022 IWBF Wheelchair Basketball World Championships in Dubai.
"It took me all of five seconds to realize that wheelchair basketball athletes are just as competitive as any other athletes," he says. "I've been a part of games where teams score 80, 90 points — just like they would in able-bodied basketball. Basketball is basketball; you just have to be open to it. Being young at the time, I wanted to get as many games under my belt as I possibly could, and the sport of wheelchair basketball provided that."
As the lack of game officials continues impacting communities large and small, forcing the rescheduling of games that may not always align with players' — and their families' or guardians' — schedules and resources, not to mention threatening the viability of entire leagues, Jones believes more than ever in NIRSA's efforts to train the next generation of officials.
"What we do is vital," she says. "The shortage of officials truly impacts the student-athletes more than anyone else, and it's a shame that we can't find more people to put on the stripes, learn the rules, and get on the fields and courts."