Earlier this week, the minor-league Akron Aeros unveiled two new concessions items: the half-pound "Wonderdog" and its even heftier cousin "The Eighth Wonder of the World," which weighs in at a full pound. Akron's first-year director of food and beverage Jason Kerton arranged for a sausage company in Cleveland to custom-make the foot-long-and-then-some franks.
But size is only the first choice. Both dogs come with a menu of 40 specialty toppings - ranging from macaroni and cheese to chocolate chips. Want wasabi? You got it. Coleslaw? Coming right up. There's no limit to the number of toppings a customer can combine. "It's a la carte," Kerton says. "You come up and say, 'I want toppings 6, 9, 14 and 22.' We put them on for you, and then you can take your order over to the ketchup and mustard stand." In what the team's assistant general manager Dan Foust calls "a good twist," numbers 36 through 40 will be an ever-changing rotation of mystery toppings. "If you want to test your luck and say, 'I want secret ingredient number 37,' it will be a nice surprise."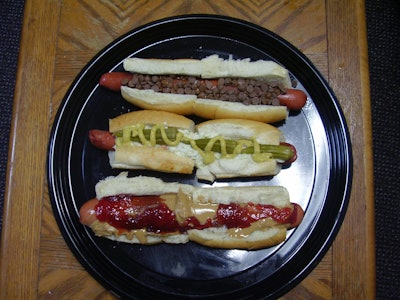 Photo courtesy of Akron Aeros
And these are merely two of Kerton's more traditional takes on ballpark fare. He's already launched the "Three Dog Night" - a hot dog inside a bratwurst inside a kielbasa inside a bun (an estimated 3,350 calories, in all). Next came the "Nice 2 Meat You" burger, which packs a half-pound of hot dog, a quarter pound of bacon, cheddar cheese and onions inside 1.75 pounds of ground beef. Kerton conservatively estimates the caloric content at 5,400. Western Michigan Whitecaps' "Fifth-Third Burger,"eat your heart out.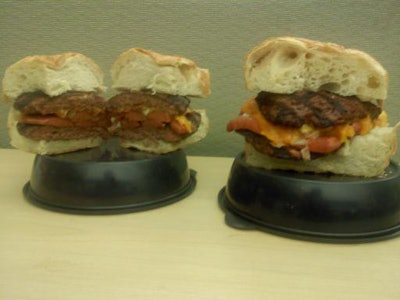 Photo courtesy of Akron Aeros
"I spent most of my winter here in my apartment coming up with these creations - some that worked, some that didn't, some that I tweaked," says Kerton, who helped revamp the menu for the Charleston (S.C.) River Dogs, but not nearly to these extremes. "I bring them in, present them to the staff here and see what they think."
The "Nice 2 Meat You" burger got some funny looks at first, particularly among women in the Aeros front office. And it has gotten big laughs from "The Daily Show with Jon Stewart" viewers who saw comedian Louis Black offer the menu item as an alternative to Taco Bell, the recent legal target of a customer who claimed that what the fast food chain serves isn't really meat at all. Local reaction has been positive, according to Kerton. "Overall, the city of Akron and the people have been wonderful, really receptive to the new ideas and the freshness."
"The food at a ballpark, or really any sporting event, is a huge aspect of a fan's ballpark experience," adds Foust, who handles the Aeros' media and marketing. "It's a marketer's dream that we're offering items people can't find anywhere else. There's a bunch of snow on the ground here in the Akron area, and people are talking baseball, and that's a tribute to Jason and his creations."
All it took for word to spread like mayonnaise was a press release on each item sent to local media outlets, but Foust will continue to make food an integral part of Aeros advertising campaigns. "Word of mouth - no pun intended - is going to be a huge asset for us, as well," he says. "I can see people wanting to come to our ballpark, maybe traveling from two hours way, to sample these items."
To fulfill his goal of introducing five new extreme menu items before the Aeros open their home season April 7, Kerton is currently tinkering with a dessert creation. It's all a journey. "I personally try these things," he says. "I've thrown more stuff out than I've ever actually created. I tried the Three Dog Night 15 different ways before I came up with what finally became the Three Dog Night."
Kerton counts among his biggest Charleston swings and misses a hot dog made of shrimp and crabmeat. "It was terrible," he admits. "That one will probably never resurface."
The former executive chef knows that his culinary credentials mean nothing if the end product doesn't taste good. "Anyone can put anything together and give it a goofy name," Kerton says, "but if it doesn't taste good, then there's no point."