Bolingbrook, IL – As the sports surface providers for countless internationally recognized events like the Olympics, the NBA and WNBA championships, March Madness, the Final Four, and the NCCA national volleyball championships, Gerflor USA understands how to create the foundation for winning. This winning culture was the primary objective in developing and executing their new corporate office space and distribution/logistics center in Bolingbrook, IL.
The new, collaborative work environment, labeled The Court, was designed to evoke a team atmosphere, capturing the spirit of Gerflor as the place "Where Champions Work." The space highlight is The Court, a 4,500 square foot open work environment that includes an actual Connor Sports basketball court as the floor surface, complete with a subfloor and a center scoreboard to share business performance and team wins, small and large. Center court includes a "college-type" logo to reinforce a team culture and continuous learning.
Wall graphics reflect the core businesses in the US – Gerflor, Connor Sports, and Sport Court, and the core segments in which the team contributes – Healthcare, Education, Sport, Industry, Transportation, Residential, and Dance. Throughout the entire space, employee-chosen quotes are displayed, reflecting Gerflor core values – Teamwork, Respect & Integrity, Accountability & Commitment, Customer Success, Entrepreneurship & Agility.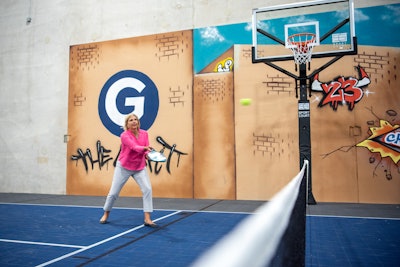 The total office includes over 10,000 square feet of flexible, light, and open space for a new type of work environment. Because all teammates are equally valuable in contributing to reaching the objectives of customers, no one has a private office. Instead, the full team shares multiple spaces and workspace configurations, choosing the area that best accommodates their schedule and plans for the day.
There are additional team-oriented, collaboration spaces, a kitchen/dining area, a basketball/pickleball court designed with Sport Court tiles, and an open locker area, all designed to demonstrate Gerflor's belief in teamwork, healthy competition, and championing the success of customers.
The heart of the space is a new distribution and logistics center that supports the entire US market.
The innovative facility expands the former footprint by 200% and increases storage capacity by 300%, using new technologies to monitor and efficiently move materials for customer orders. It will also include a new techno center, a specialized space for installing and testing new products and teaching flooring installers the processes for successful installation and maintenance.
"The Court is part of our ongoing commitment and investment in our customers' success and employees' satisfaction and engagement, stated Benjamin Bachman, CEO North America. "We believe we are an organization where champions work, and we have created a team-building and customer-focused space worthy of champions."
About Gerflor USA
Gerflor USA, the American subsidiary of France-based Gerflor, provides resilient flooring solutions for designers, installers, and facility managers who want design-forward, sustainable, durable flooring products. Gerflor USA's cutting-edge technology, history of innovation, and manufacturing capabilities are why Mipolam, the original homogeneous sheet vinyl flooring, is a leading healthcare flooring solution. Gerflor is available in 100 countries around the globe with more than 2500 employees. The company has an excellent environmental record which includes whole life cycle performance, full compliance with ISO 14001 standards, and FloorScore™ certification. Find Gerflor USA on social media: Gerflor USA on Facebook, LinkedIn, Twitter, Pinterest, and YouTube. For more information, visit www.gerflorusa.com, call 877-437-3567, or email info@gerflorusa.com.