An Update on the Physical Education for Progress Act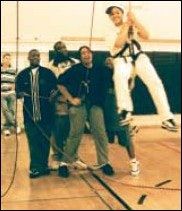 As the Physical Education for Progress (PEP) Bill was heading toward debate on the floor of the U.S. Senate (the bill, which appropriates $400 million toward high school phy ed programs, was passed in late May), a minor irony surrounded the intense lobbying effort spearheaded by the National Sporting Goods Association and Sporting Goods Manufacturers Association.
Not that anyone doubts the sporting-goods industry's good intentions in joining the fight against sedentary behavior among youth, nor its related long-term goal of getting tomorrow's adult consumers passionately involved in athletic and recreational pursuits.
What was particularly interesting was that while a good deal of that $400 million will be spent by high schools on athletic equipment, there appears to be a growing trend in physical education circles away from team sports and toward lifetime activities, many of which require little or no equipment at all. Those activities that do require equipment are centered more on physical fitness, meaning that the group that may yet benefit the most from the bill is the health-club industry, which expressed much less vocal support as the PEP Bill gained momentum.
Outdoor education programs like the one at Salmon (Idaho) High School, and wellness education programs like the one at Naperville (Ill.) High School are increasingly viewed as the future of phy ed. Athletic directors at other schools replicating these programs are purchasing computer-linked cardio equipment, heart-rate monitors and climbing walls-and some are eschewing equipment altogether.
Chester Jones, a physical education teacher and gymnastics coach at Evanston Township (Ill.) High School, has for six years worked with John Brinkworth, his department chairman, to create (and endlessly tinker with) an adventure education curriculum that has as its centerpiece a high-ropes course strung from the ceiling of the school's gym. Although students are "graded" individually on being able to reach certain levels and platforms, Jones says the key to the program's success is its focus on teamwork.
"We've gone to grouping students, and each team of five-belayer, backup belayer, anchor, rope tender and climber-works together," Jones says. "Everybody has an important job and everybody's kept busy. Once they've mastered that, then they can if they choose get on a self-belay system where they can be on the course by themselves."
By linking the destinies of groups of students, the program helps break down high school cliques and encourages participation. (One student skipping class knocks the whole team out of commission, so the students keep after each other to show up.) It also, according to Brinkworth, shifts the focus of phy ed from competition, in which there are winners and losers, to cooperative effort.
The class does so from the start, as kids spend weeks on the ground, playing games to learn each other's names and performing group problemsolving and trust exercises. (Jones says he'll try anything to draw students into active participation, and he won't hesitate to throw out a game if the kids don't respond.) Later in the semester, the class branches out into solo pursuits such as scuba diving, canoeing, archery, hiking and circus arts, along the way learning skills from knot-tying to plant identification.
There's been one hitch: getting sponsors. Jones says he's contacted outdoor-sports supplier REI and some local clubs, but hasn't heard back from anybody. "I figured REI would supply ropes or equipment," Jones says. "I mean, we're seeding their programs."