BMX racing offers rec departments a youth-programming alternative.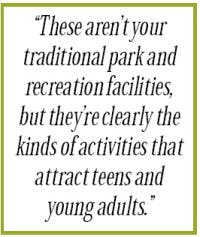 The rise of extreme sports is refueling interest in BMX racing, a self-supporting program that is catching the attention of more and more park and recreation departments.
Requiring only a helmet and a bicycle with 20-inch-diameter wheels, the sport can involve an entire community-riders range in age from 3 to more than 55, though most are between 6 and 14. Earlier this year, more than 300 park and recreation departments requested applications for 20 BMX facility grants offered through the National Recreation and Park Association and the American Bicycle Association.
"There's increasing interest in more adventure-based facilities for youths and young adults," says Kathy Spangler, director of national programs for NRPA. "We see it in in-line hockey, we see it in skateboard parks, we're seeing it in BMX. These aren't your traditional park and recreation facilities, but they're clearly the kinds of activities that attract teens and young adults."
And it may not be that hard to make these facilities available. The biggest construction cost is land and dirt. The ABA (480/961-1903) will provide starting gates, training manuals and other materials. Or cities can partner with the National Bicycle League (614/777-1625), which will send staff to help with construction, as well as provide training on race management and track maintenance. Construction costs start at around $10,000 to $30,000, although a top-notch facility can hit the $100,000 mark. The key is to select a site that already has electricity and water running to it, or to take advantage of existing facilities.
"You can back a BMX facility up into existing park components such as ball fields or soccer fields," says Bob Tedesco, managing director for the NBL. "You already have the concessions stand, the bathrooms and parking." A typical track is 800 to 1,300 feet long with three to five high-banked turns and 15 to 30 obstacles, including double and triple jumps or "rhythm sections," which resemble a ski hill's mogul run. Most-80 percent of the ABA's tracks and 98 percent of the NBL's-are on public land.
Liability, obviously, is a concern for facility owners. Within the ABA, each rider's membership includes a medical insurance policy, and a waiver covers owners and operators whenever the track is open. Through USA Cycling, the NBL offers a liability policy that covers owners, operators, riders and spectators on race days. During nonsanctioned practices or races, NBL tracks are generally covered by the city's insurance, and therefore can be open to the entire community, not just NBL members. While this may expose a city to liability, few have run into difficulties. Some proponents would even argue the sport is safer than traditional activities.
"I've seen fewer injuries at our track in one year than I see in one good football game," says Ernie Gearhart, president and track director for St. Cloud (Fla.) BMX Inc. and president of the St. Cloud Chamber of Commerce.
At a self-insured track near Baton Rouge, La., riders sign a lengthy, attorney- prepared waiver on their first visit, and at each race, they sign a waiver at the bottom of the registration form. The NBL covers the track for sanctioned races, but self-insurance must cover the track's "citizen races," practices, riding clinics, birthday parties and sessions for Boy Scouts and Girl Scouts.
"We probably get at least one lawsuit a year on the track, but we've only lost one," says Debbie Spica, area supervisor for the East Baton Rouge Parish Park and Recreation Commission. "We probably would have lost more cases if we didn't take the time to have a staff person talk to first-time riders and help them with their first ride. You need to give them that one-on-one service."
As with other youth sports, most park and recreation departments choose parent organizations or nonprofit groups to operate their BMX program. Fewer than a dozen of the 260 ABA tracks and only two of the NBL's 160 tracks are actually operated by park and recreation departments, and even then, generally just one or two part-time managers support the volunteer effort. The new $1.5 million covered facility in DeSoto, Texas, has a nonprofit group that manages and runs races, as well as maintains the track-from dragging and watering to developing and redesigning elements of the track.
"The city provides us with a wealth of support services, just like those they provide all the other youth sports associations," says Edd Haskins, a member of the Metroplex BMX board of directors. "We handle the program and the maintenance of the track. If there's something related to the facility or the grounds, that's the park department's area of expertise."
Many cities turn to volunteer groups because they don't have the financial or staff resources to make a BMX program happen. To run a race, eight to 15 people are needed for up to 10 hours. Daily maintenance takes even more time. "Even if the facility's only actually open three days a week, you could easily put in 40 hours a week maintaining the track and just getting it ready for races," says Bernard Anderson, vice president of the ABA.
In Missouri, Blue Springs BMX has had a user agreement with its parents' group throughout its 14-year history. While the city handles basic maintenance of the property and provides fencing, lighting and bleachers, the parents manage the program. And the city is happy with that arrangement.
"We don't see it being realistic or feasible to take it over," says Roscoe Righter, director of parks and recreation/buildings and grounds for the city of Blue Springs. "The track does not make enough money to pay a salary, and we don't want to raise the rates."
Tracks will, however, make enough money to support themselves, and by hosting regional or national races, can even rake in significant tourism dollars for communities. In Los Angeles County, riders pay $9 to enter each weekly race-the national average is $7 to $10, and $3 or less for practice or open-use times. About $4 of the $9 goes toward awards, leaving a $5 profit per rider. Even if there were a $1 fee for insurance, as with NBL tracks, a $4 profit for 150 riders would total $600, enough to cover basic maintenance and race-day wages for staff.
"It's not a program that you would lose money on," says Bryan Spragg, track operator and recreation services supervisor for Los Angeles County. "With traditional athletics, you pay one time and it covers you for a season. BMX riders pay every time they come to the track."