The Effects of Urban Sprawl Spur Community Interest in Nature Parks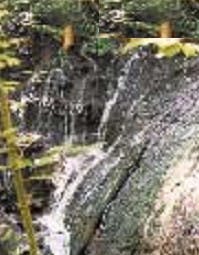 Steve Cotter remembers a day when he and his friends had plenty of natural areas to visit. Cotter, now the natural resources coordinator for the Bloomington (Ind.) Parks and Recreation Department, recognizes the importance of those childhood opportunities and wants to do what he can to preserve them for future generations.
"People really do appreciate that connection to nature that can only come from being in a natural environment," Cotter says. "As our communities have become more urbanized and sprawled out, those opportunities aren't available to as many kids as they used to be. I think a lot of people want those opportunities back."
Many park and recreation departments are trying to give natural areas back through community nature parks and preserves. Bloomington, for example, now has a nature park with springs, caves, steep forested slopes and a wetland, as well as a 1,169-acre nature preserve located minutes from the city's downtown. Private hikes with a naturalist and environmental education programs are also provided.
According to Cotter, Bloomington's motivations are twofold: Not only does the parks department have a strong desire to protect remaining green space, there's also a great deal of support and demand from the community. As vast wilderness areas and multitudinous wildlife are increasingly replaced with fast-paced, high-traffic highways, subdivisions and shopping malls, many community members express nostalgia for the past and concern for the environment's future.
Similar motivations have driven the San Antonio Parks and Recreation Department to create two wilderness parks and to continue acquiring land to set aside as wilderness areas for the future. Malcolm Matthews, San Antonio's recreation director, points out an added bonus to having a wilderness park. "There's a lot of interest from our perspective because a nature park is not as expensive as other parks," he says. "It's a good way to get a lot of people into your parks system without necessarily having a high maintenance cost."
Community demand, however, prompted the city to start taking action and keeps the department looking for land to add to its wilderness park system. "We hold a lot of community input meetings," says Matthews. "And one of the highest-ranking demands at all of these meetings is to make improvements so that people can get out into the wilderness areas or even access natural areas near their subdivisions." The city, which is in the process of buying another 6,000 acres of land in various areas throughout the community and hopes to create about five or six more properties that can remain in their natural state, attracts as many or more people to one nature park than to a golf course, Matthews adds.
This is not surprising, perhaps, since just one of San Antonio's wilderness parks features more than five miles of hiking trails, rare birds, terrestrial orchids, steep hills and deep canyons. According to Matthews, this is exactly what people want. "People are so cooped up now in their working world," he says. "So many jobs are office-bound, and when people have a chance to get outside, they want to get as close to nature as they can. People are becoming more health-conscious, and they're looking for places to go walk or jog or ride their bike. A wilderness park gives them a safe place to do that in a natural environment where there are deer and trees. It's a lot more appealing than walking up and down the street."
As for the wilderness parks still in planning, Matthews says they will be centered around different types of trails - from handicap-accessible trails to mountain-bike trails - with a conscious effort to do minimal damage to the surrounding environment. The department also plans to do some park-system expansion on two of the community's creekways, leaving them in their natural state and surrounding them with trails.
"We're getting ready for the continual expansion of urban sprawl," says Matthews. "We're trying to get these parks now so that when people subdivide and urban development moves out into those areas, we've already secured the parks."
Nature parks are not just for subdivisions, however, as evidenced by the recent opening of the Augustus F. Hawkins Natural Park in South Central Los Angeles. Formerly a junkyard, the new park has triggered excitement from neighborhood residents. Randy Hester, professor of landscape architecture at the University of California-Berkeley, worked pro bono on the park's design. He and some of his landscape students went straight to community members to determine what they wanted in the park.
Although the community was given a range of park amenity choices, including soccer fields and playgrounds, it chose a natural park, with places to explore, hills, trees and a stream. "Our kids don't go to the mountains or summer camp," Alma Lopez, a member of the Volunteer Neighborhood Oversight Committee in Los Angeles, told The New York Times. "It's too far to get to nature. We felt we should have nature right here."
That's exactly what they got, complete with plenty of trees, an arroyo with rocks from the Los Angeles River, picnic areas for large groups and hills made of material recovered from Malibu mudslides. The park also has a nature center, above which a 24-hour-a-day park ranger lives.
Many recreation departments, however, are not stopping there. Once they create nature parks, officials use the opportunity to invite community members to the parks to participate in environmental education activities. The parks and recreation department in Jacksonville, Fla., sets aside areas to be left in their natural state in many of its parks, and then offers environmental education in those areas.
"My biggest goal is to get people outside and get them to know what natural resources we have around the city," says Rob Barnovsky, park naturalist at Jacksonville's Parks and Recreation Department. Examples of these activities include a winter wildflower walk - in which Barnovsky points out all the flowers that still bloom in the winter - an edible plants walk, beach campfires and a night-time "Owl Prowl," an educational guided tour in which Barnovsky helps participants find owls.
Participation numbers vary depending on the walk's focus, says Barnovsky. The beach campfires average about 55 people each, while an "Owl Prowl" - even in January when it's only 30 degrees outside - can attract more than 30 participants.
The city recently acquired a number of environmentally sensitive lands to be preserved, and it will continue to provide environmental education in hopes of teaching the community to protect these natural spaces. "We want to keep these areas preserved," Barnovsky says, "but we also put trails in many of these parks because we want to create a little bit of access so that people can see the deer and the black bear in our parks and say, 'This is why we preserved it.' "