Girls' high school ice hockey skates ahead in a half-dozen states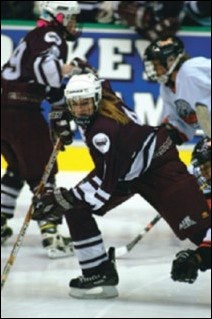 When Minnesotans Natalie Darwitz and Krissy Wendell, two of the leading scorers on the 2002 U.S. Women's Olympic Hockey Team, began to play girls' high school hockey, there were few women in the sport to emulate. But thanks to a gold-medal victory by Team USA in the 1998 Nagano Olympics and a silver-medal showing at this year's Salt Lake Games, that's no longer a problem for today's young female players. "Girls in high school now have role models they can look up to who aren't much older than they are," notes John Gillis, an assistant director of the National Federation of State High School Associations and editor of the organization's ice hockey rules book.
According to the NFHS, 6,442 girls from 372 high schools played interscholastic hockey last season, either on their own teams or on boys' teams. More than half of those players - 3,847 from 201 schools - play in Minnesota, which in 1994 became the first state to officially sponsor girls' high school hockey and sanction a state tournament. Massachusetts followed by introducing hockey in 2000, with Wisconsin and Vermont establishing leagues in 2001. North Dakota and Rhode Island will kick off their inaugural seasons this month and next, respectively.
The eruption of interest in those six states followed the developmental pattern of college hockey, branching out regionally in the upper Midwest and the Northeast. That's good news for the NCAA, which already reports that women's hockey is among the most popular of its emerging sports, with the number of players and teams increasing every year. And some of the strongest programs in the country are located in those regional pockets.
Fueled by community youth hockey programs and club leagues, the number of female hockey players younger than 19 skyrocketed from 6,336 on 149 teams in 1990 to 39,693 on 1,530 teams in 2000, according to USA Hockey, the nation's governing body of amateur hockey. It should be noted, however, that many of those females play on male teams.
"Ice hockey players traditionally have been boys following in their fathers' footsteps - and girls from those families who want to get involved, too," says Tom Shafransky, an assistant director of the Wisconsin Interscholastic Athletic Association. "But the sport now needs to draw more families from outside the hockey community."
The number of female players at the high school level is still low enough that many schools sponsoring girls' teams must either recruit talent from area middle schools or co-op with other high schools just to field a team. Of Wisconsin's seven squads this season, for example, three are co-ops - including one that involves four schools.
Ensuring that there are enough interested players to make a girls' league viable is the greatest challenge facing schools considering adding the sport. "That's the biggest hurdle athletic directors have to overcome," says David Stead, executive director of the Minnesota State High School League. "Otherwise, they have to use seventh and eighth graders. That's not uncommon at all."
"Our state association didn't want to approve a new sport and then two years down the road have to say, 'Well, gosh, we've got nobody. We're gonna have to cut it,' " adds Craig Perry, athletic director for Grand Forks (N.D.) Public Schools, which fields one co-op team with about 25 players from Central and Red River high schools and district middle schools.
To prevent that from happening, the North Dakota High School Activities Association required a minimum of eight teams to sanction a girls' hockey league; the final tally was 11. (Incidentally, there are just 17 boys' hockey teams in all of North Dakota.) "The interest has been on the rise for the past five or six years," says David Carlsrud, an assistant to the executive secretary of the NDHSAA, even though the association only had seven interested teams before a last-minute surge. "I think for a long time girls were focused just on basketball. Then as the younger club hockey teams began, interest grew."
Grand Forks officials survey students at the district's four middle schools and two high schools every two years to find out what new sports they would like to play. Girls consistently named soccer (which was added in the mid-1990s), softball (which has yet to be added) and ice hockey, Perry says. The Grand Forks Girls' and Women's Hockey Association, which operates the community's independent club program and now serves as a feeder program to the high schools, began rallying support for a statewide interscholastic league after the NDHSAA asked schools to conduct their own feasibility studies on the sport. Perry eventually became the point of contact for other interested schools. "We knew we had to do this because it was the right thing to do," he says. "Girls wanted this. Plus it provided us an opportunity to be proactive with Title IX."
But doing so won't come cheap. Perry estimates it will cost Grand Forks Public Schools about $50,000 to sponsor its co-op team for a 20-plus-game schedule this year - $20,000 for ice time at five area facilities and $30,000 for coaches' salaries, equipment, uniforms and travel. Unlike many Minnesota teams, which are concentrated in several pockets across the state, the Grand Forks team will travel a lot. The team's shortest trip this season will be 90 miles; the longest, 350 miles. Because all 11 teams must play one another, Perry says that some schools are planning weekend trips that will make Friday and Saturday night stops for games in two different communities.
"We know these are difficult economic times for schools," says Shafransky, adding that the WIAA is eager to offer local support and fund-raising strategies to help its member schools sponsor teams. "But if you can just get the ball rolling - or, in this case, the puck moving - the sport is going to grow."
Travel costs won't be an issue for Rhode Island's five teams - "You can go anywhere in this state within an hour," says Richard Lynch, executive director of the Rhode Island Interscholastic League - but facility usage might. Most schools in Rhode Island (and elsewhere) don't operate their own ice rinks, so they're at the mercy of the owners of public and private facilities. The state's boys' and girls' hockey programs are operated out of the league's office, which works with nine rinks that facilitate practice for five girls' and 31 boys' teams. "Facilities are going to be a problem no matter what," Lynch says.
Minnesota made considerable strides to solve its facility-shortage dilemma with the Mighty Ducks Ice Arena Program, developed in 1995 by two state legislators and overseen by the Minnesota Amateur Sports Commission. In five years, the program appropriated more than $18 million to communities across the state, resulting in 61 new public ice sheets. The program, which relies on general funds and capital bonds, was suspended in 2000 after Gov. Jesse Ventura failed to back it, according to commission fiscal coordinator Lynda Lynch. Nevertheless, Lynch says she still fields calls from officials in other states who hope to develop a similar program. Among her most recent callers? An administrator from Rhode Island.
If the history of boy's hockey is any indication, states with large numbers of hockey-playing high school students - namely Maine, Michigan and New York - could be among the next to sanction all-girls' teams and tournaments. Each state has more than 100 girls' high school players, and not coincidentally, those areas are also hockey hotbeds for both college and youth programs.
It's worth pointing out that in North Dakota last year, prior to the NDHSAA's sponsorship of the sport, a total of just six girls played high school hockey. But when the opportunity arose for recognition beyond being the only female on an all-male team, attitudes quickly changed, Perry says. "When a state says it will sanction girls' ice hockey, that means girls have the potential to be state champions," he says. "That's a biggie."