BlazeSports provides wheelchair users opportunities in competitive sports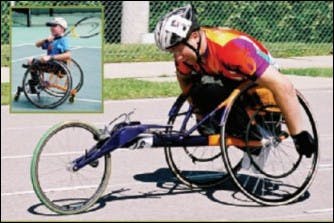 Beth Eilers didn't know what she was getting into when she settled into a specially designed wheelchair in March for her first game of wheelchair rugby. Eilers, special recreation program coordinator for the Gulfport (Miss.) Department of Leisure Services, was attending a coaches clinic for BlazeSports - a program designed to create competitive sports opportunities for physically disabled athletes of all ages - in preparation for her department's upcoming initiation as a BlazeSports Club of America. Wheelchair rugby, which is played not on grass but on a hardcourt surface, is one of five core sports offered through BlazeSports, in addition to wheelchair tennis, wheelchair basketball, track and field, and swimming.
Eilers isn't a disabled athlete, so when she wheeled out onto the court, she was in for a shock - make that a couple of shocks. "It's completely different from any other rugby you've probably seen," she says. "You can liken it to bumper cars. There's a lot of ramming, kicking and checking involved."
Sore forearms and a few bumps and bruises weren't the only mementos Eilers took away from her experience at the BlazeSports coaches camp. She also gained a firsthand appreciation for the competitive spirit of disabled athletes. "I came from doing summer camps for people with disabilities. I've got a lot of disability experience, but sports experience is not something I have," she says. "Some of these athletes are like the Michael Jordans of disability sports. As far as competitiveness and determination to make it as an elite athlete, they have the same exact things."
That shouldn't surprise anyone, says Maria Portgee, BlazeSports' communication and development manager. "That's an untapped community out there waiting to use your facilities," she says. "There's a huge, unrecognized need for physical activity for people who have physical disabilities."
BlazeSports (www.blazesports.com), the brainchild of the United States Disabled Athletes Fund, an Atlanta, Ga.-based nonprofit organization, began addressing that void in earnest last March, although the program's roots trace back to the 1996 Atlanta Paralympic Games, held just 11 days after the close of the Summer Olympics.
In 1998, the USDAF partnered with the Georgia Recreation and Park Association to initiate a model program to bring community-based disabled sports programs to cities across that state. While addressing the need for disabled sports, the program also encouraged participants to strive for the ultimate goal of someday competing in the Paralympics.
Taking its name from Blaze, the popular Atlanta Paralympic Games mascot, BlazeSports Georgia quickly evolved into a comprehensive network of year-round programs delivered in 12 communities across the state. It wasn't long before BlazeSports went national. Last year's announcement of the USDAF's partnership with the National Recreation and Park Association led to the establishment of BlazeSports Clubs of America in nine communities - from San Jose, Calif., to Denver to Tampa, Fla. - in March 2002.
While the coaches are often Paralympic athletes affiliated with U.S. Paralympics, BlazeSports' strategic partner and the national body responsible for the development of athletes with disabilities at all levels, NRPA enjoys distinction as the program's "presenting partner." In that capacity, the association assists with site selection and fund development, and in setting up coaches clinics for recreation professionals, such as the one Eilers attended.
BlazeSports' funding comes from a variety of sources, including grants and donations from medical supply companies and former Paralympic athletes. For example, BlazeSports will typically provide each club a small number of secondhand wheelchairs specially designed for certain sports or events. According to Portgee, it's rare for a BlazeSports participant (especially youths) to own his or her own wheelchair for, say, tennis, as such equipment can cost several thousand dollars.
By this fall, there were 30 BlazeSports communities in 11 states and the District of Columbia. The USDAF plans to add 10 new clubs each year through 2005. "Some are a little bit stronger than others," says Portgee of the diverse BlazeSports Clubs. "But being a part of the group means that you can learn from others and see the things they've done that have been successful and the things they've done that have failed."
As Gulfport's program crawls through its early development phases, Eilers and her staff continue to learn, in turn sharing whatever knowledge of disabled sports they acquire with the community at large. Just last month, the leisure services department held its first public information session to give Gulfport residents a taste of what's to come. Similar to other BlazeSports Club cities, the plan for Gulfport Leisure Services is to integrate the sports program into its existing therapeutic recreation offerings, which currently consist of day camps and social events. Says Eilers, "I envision a program that will reach every disabled population."
Despite its relatively close proximity to the home of BlazeSports, Gulfport is the first city in Mississippi to carry the distinction as a BlazeSports Club. "BlazeSports is very well known in Georgia. It's not very well known here yet," says Eilers of Gulfport, which has an estimated 12,000 physically disabled individuals among its 70,000-plus residents. "Disabled sports is something that traditionally takes a long time to build. I anticipate that we'll be doing some individual sports like track and field and tennis, and then for any team sports, I'll be getting in a chair to play so we have enough numbers."
As long as enthusiastic, hands-on therapeutic recreation professionals like Eilers are around, BlazeSports should continue to catch fire with recreation departments across the country. "We're not out to create a fleet of Paralympic athletes. You'll get one or two - maybe more, if you're lucky," says Portgee. "For the most part, we're just trying to bring sports to them. Recreation people have always known that this community is made up of regular people who just have to use another way of getting around. Now, rec departments are able to get their disabled people into serious competition."
"You'll find some of them were athletes before their injury. You'll find some of them had no interest in sports whatsoever before their injury, but got introduced to it after they were injured and found it was something they could do despite their disability," says Eilers. "It's pretty amazing to listen to them talk - especially the kids - about what BlazeSports has done for them, and how it has changed their lives."