It is becoming increasingly clear that public schools are the only truly disadvantaged providers of sports, recreation and fitness opportunities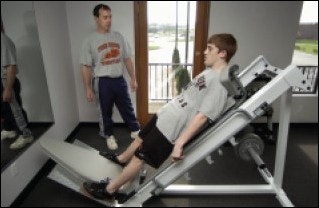 For all the talk of unfair competition these days - the escalating battle pitting for profit health clubs against a variety of nonprofit recreation providers - it is becoming increasingly clear that public schools are the only truly disadvantaged providers of sports, recreation and fitness opportunities.
A couple of generations ago, calls to combat childhood obesity (for example) might have been met with longer recess periods and expanded gym classes. However, just as budgetary woes led to the disabling of physical education programs, now the national mania for academic testing is helping kill off anything not regarded as central to preparing children for higher education.
While this is happening, entrepreneurs in private (and public) settings are reaching deep into the schools and capturing younger and younger children with swanky, well-staffed fitness facilities. Take the Reach Your Potential Youth Training Center, which offers Fern Creek, Ky., youths ages 10 to 15 a regimen of resistance and free-weight training. Plans are in the works to add a room for wrestling training, a tumbling room for cheerleading training and a classroom where teens can learn about nutrition, according to a report in the Louisville Courier-Journal. A six-week trial period consisting of three 90-minute sessions each week costs $75; thereafter, the monthly fee is $75.
Costly, yes, but in an inversion of the typical adult health club that offers child care, some kids' fitness providers are offering a lucrative perk: free use of fitness equipment for parents while their children are occupied. The Albany, N.Y., area is home to two such clubs, the Kids Care Fitness Center in Latham ($40 a month) and the Fit For Life Wellness Center in Clifton Park ($44 a month). Kids Care features programs for children as young as 3 years old, while Fit For Life targets children ages 7 to 12; both are focused on aerobic exercises and games, plus nutrition education.
Nonprofit providers, of course, have been building and expanding fitness centers like crazy, with the emphasis on family wellness. But even these providers are honing their message to home in on kids. For example, the Jewish Community Center in Overland Park, Kan., this year opened a fitness center for children ages 8 to 12 called The Zone, which features age-appropriate strength and cardiovascular equipment, and a climbing wall. Classes held there also incorporate fun pieces of equipment such as jump ropes, scooters and hoppy balls.
In Roanoke, Va., an arms race is developing among the Central Branch YMCA, which opened a new facility this fall, and a number of area health clubs to serve the burgeoning youth demographic. In the runup to its grand reopening, the Central Branch Y held teen fitness courses to introduce youngsters to strength and cardio machines, with the intention of buying youth-sized machines when it finally had enough space for them. The nearby Botetourt Athletic Club holds what it calls the Bac Pac program, in which children ages 11 to 14 are able to use the club's fitness equipment after an instructional session with a personal trainer. Another Roanoke club, New Fitness for Ladies, has for two years now offered Girl Power, a four-week session that introduces girls ages 7 to 14 to aerobics and the proper use of fitness equipment.
The facilities most aggressively pursuing high school-age students are sports-specific training centers, with the Minneapolis-St. Paul area one of the country's more competitive markets. In Woodbury, for example, the Perpetual Motion Children's Sports Center moved last year from a 10,000-square-foot building (where the focus was almost exclusively on gymnastics) to a new, 26,000-square-foot space that includes room for trampoline, tumbling, swimming, golf, dance and karate programs. The need to diversify quickly becomes apparent when one considers that the Twin Cities and their suburbs are now home to 47 gymnastics centers.
But local sports centers are also beginning to attract national competition. A notable newcomer, Intelligent Sports Inc., is promising to "redefine the student-athlete" by opening new "youth and amateur sports centers throughout the country that offer a year-round sports calendar with emphasis on youth and amateur sports programs and skill development." To boost its foray into the training center market, Intelligent Sports is banking on the credibility of a board of directors made up of ex-sports stars such as Reggie Theus (NBA) and Kellen Winslow (NFL), as well as "a diverse range of sports programs that promote individual athletic skill development, the concepts of teamwork and discipline, and a love of the game."
The sharp-eyed observer will have noted the names of many upscale suburbs in the preceding text; critics of these kinds of programs (and there are quite a few among high school sports administrators) say they are exacerbating a split between the have-mores and the have-lesses, ensuring that teams from wealthy enclaves are better fit and more competitive than their poorer counterparts. Indeed, even the recent trend of combining high school programs with city recreational services is largely confined to wealthier areas that already boast better-than-average facilities in one or the other.
Youth program providers - those offering everything from nutrition education and strength training to soccer and swimming - say it was ever thus. As Ron Carter, owner of Soccer Blast in Burnsville, Minn., recently told the St. Paul Pioneer Press, "We are just filling a need."
Fred Engh, the executive director of the National Alliance for Youth Sports, concedes that sports and fitness entrepreneurs are targeting affluent families, but doesn't think that high schools, or high school athletes, are likely to lose from the added competition.
"These programs offer young people an opportunity to increase speed, strength and agility, which we don't provide in school physical education programs," Engh says. "Does it give those kids a one-up on kids in inner-city areas who don't have a specialized facility or the financial wherewithal to join a specialized facility? I don't think so. Anyone who has been an athlete knows that to get from the B level to the A level, you need a lot more than increased speed, strength and agility. What those clubs cannot provide is what it really takes to be an all-star: a fierce competitive spirit and love of the sport. That can't be taught."