Wheelchair basketball makes history in Georgia and Illinois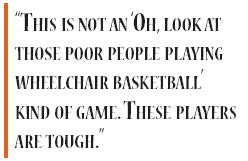 Last spring, newspaper reporters in Georgia and Illinois were quick to point out the historical significance of the inaugural high school wheelchair basketball tournaments held in those states. And even though Georgia actually conducted its televised event - held in conjunction with the state's traditional basketball championships - a week prior to the Illinois tournament, wheelchair basketball supporters in both states claimed to be the first in the country to crown a champion in the sport.
"The world of wheelchair sports is not big," says Kathleen Reeves, coordinator of the Illinois High School Association's Wheelchair Basketball Project, a five-year-old grassroots pilot program overseen by the University of Illinois (whose competitive wheelchair basketball teams are as close to a national powerhouse as the sport gets) and staffed by volunteers who run clinics and administer the sport. "I don't really care who was first and who was second - just as long as we got basketballs into those kids' hands."
Doing that isn't easy. Involvement in a wheelchair basketball program requires a high level of commitment on the part of athletic administrators and coaches, including special training and cooperative arrangements with organizations and other schools in the area.
Recent partnerships between state associations, universities and nonprofit groups, however, are proving that wheelchair basketball and other adapted sports can be integrated into interscholastic programs. Rather than representing a single school, though, teams usually represent cities, counties or even larger regions.
Last spring, the Georgia High School Association - through an arrangement with the Georgia-based American Association of Adapted Sports Programs (AAASP) - incorporated 200- and 800-meter wheelchair races into Georgia's state track-and-field tournament for the second straight year. That partnership resulted in last spring's wheelchair basketball state tournament and could yield even more opportunities in the future for Georgia high school student-athletes with disabilities.
Wheelchair basketball and wheelchair track are two adapted sports that the Minnesota State High School League has yet to adopt. But since the 1993-94 school year, disabled student-athletes have competed for state titles in soccer, floor hockey, bowling and softball. The state even created two adapted sports divisions: one for athletes with physical disabilities and one for competitors with cognitive disabilities.
But a handful of states attempting to serve the needs of disabled student-athletes has not yet been enough to convince the National Federation of State High School Associations to recognize wheelchair sports. And when Reeves goes so far as to suggest that the NFHS consider a mandate that all states officially sanction at least one adapted sport, federation officials balk. "I'm not sure that we're ready to move in that kind of direction," says Robert Gardner, the organization's chief operating officer.
"I don't think it's unreasonable," Reeves counters. "Kids with disabilities need opportunities to participate in sports."
Of all adapted sports, wheelchair basketball is the one that seems to have the best shot at breaking into the mainstream. Originally conceived in the United States as an activity for paralyzed World War II veterans, the sport initially caught on in Veterans Administration hospitals in the mid-1940s. In 1948, the first wheelchair basketball team outside of a VA hospital was formed, and the first national wheelchair basketball tournament was held at the University of Illinois a year later.
Today, the Colorado Springs, Colo.-based National Wheelchair Basketball Association (NWBA) is the country's oldest and largest disability sport organization, with more than 2,000 member athletes who compete on more than 180 teams nationwide. Internationally, there are nearly 60 countries that boast wheelchair basketball teams, and the sport has been a Paralympics event since 1960, earning full medal status in 2000. The NWBA offers instructional books and camps for players, coaches and referees.
While the rules of wheelchair basketball are similar to traditional basketball - the NWBA closely adheres to NCAA rules - the sport falls prey to many common misperceptions. One of the biggest is that participants must use a wheelchair on a daily basis. Anyone with lower-extremity disabilities (such as orthopedic impairments, permanent knee injuries, leg-length discrepancies), spinal-cord injuries, spina bifida, cerebral palsy, multiple sclerosis, a traumatic brain injury or an amputation is eligible for wheelchair basketball.
The chairs themselves boast lightweight titanium frames with two large angled wheels to prevent tipping and two small front wheels. A raised fifth wheel centered behind the chair doesn't touch the ground unless the user leans back, thus providing added stability. The chairs do not, as some coaches and athletic directors may fear, damage hardwood floors.
Games are fast and physical. "I can't even watch the NBA anymore. It's too slow and boring for me," says Reeves, who also manages the U.S. women's wheelchair basketball team. "This is not an 'Oh, look at those poor people playing wheelchair basketball' kind of game. These players are tough."
"I had a number of people talk to me about what they saw on television last March," adds Ralph Swearngin Jr., executive director of the GHSA and a member of AAASP's board of directors. "Their preconceptions about the athletic ability of these student-athletes was radically changed. They just didn't realize the skills these players have."
Most high school wheelchair basketball players with the skills to compete must do so on their own dime. Schools are not obligated to provide chairs, which can cost upwards of $3,000, and participants usually pay all travel expenses.
But that's a small price for some players, who are just happy to have somewhere (and someone) to play. The Fort Wayne, Ind.-based Turnstone Center for Disabled Children and Adults provides physically challenged high school, middle school and elementary school students in Indiana and Ohio one of their only opportunities to compete in the sport. The Turnstone Flyers, the facility's wheelchair basketball team for high school students, boasts a roster of eight to 10 players who participate in a six-month season and travel throughout the Midwest and sometimes nationally to compete against other wheelchair basketball teams. Players who live close enough to the center practice every Wednesday, and the entire team gathers at the center one Saturday each month for a marathon five-hour practice session. Another Turnstone team, comprised of younger players, entered its second season this month.
As a reflection of its commitment to student-athletes with disabilities, Turnstone applied for and won a federal Carol M. White Physical Education Program grant - one of the only non-school organizations to ever do so - and purchased sports wheelchairs and adapted fitness equipment for its new health and wellness center addition, which opened in March. "We're beginning to work more closely with schools," says Tina Acosta, director of Turnstone's therapeutic recreation program, which oversees the wheelchair basketball teams and invites physical education classes from local schools to the facility. "I really don't see the schools taking this on themselves, but I think our presence has made them more aware of the resources out there."
More facilities like Turnstone may be needed. Few other states are making aggressive attempts to integrate wheelchair basketball into mainstream interscholastic athletics - although the Berkeley, Calif.-based Bay Area Outreach and Recreation Program, an organization dedicated to providing access to recreation and fitness activities for disabled individuals, has been trying for years to rally the California Interscholastic Federation to provide opportunities for wheelchair sports. BORP has even created a handbook for school officials describing how integration can be achieved without disrupting existing programs.
Georgia's Swearngin knows it can be done - his state and Illinois have already proved their models work - and he's confident that the number of participants in wheelchair basketball and wheelchair track will continue to climb in Georgia. Just how high, though, he's not sure. "We don't know where we're going with this," he admits. "But we'll keep going. We really feel like pioneers in this area."