For sports teams on shoestring budgets, lock-ins boost both revenue and community outreach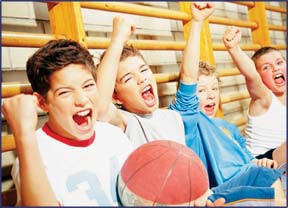 Only days after the softball team at Saint Mary's College in Notre Dame, Ind., held its first-ever lock-in for local youths last December, parents were calling first-year head coach Kristi Beechy to ask when the next one was going to be. After all, parents have a knack for recognizing quality child care once they find it. "This was the first time anything like this has been done around here, so some parents were probably a little leery of the situation," Beechy says. "But the parents of every kid who came were just delighted and excited."
Beechy was excited enough by her team's first foray into group babysitting to start planning future lock-ins, with the hope of building trust among parents and perhaps even loyalty among a new legion of softball fans.But another, equally important motivation is money. For small-college sports teams like Saint Mary's, which competes in the NCAA's Division III, fundraising is often an essential part of being a student-athlete. "Most of our schools are small private schools that don't have big budgets," says Scott McClure, a championship events coordinator at the National Association of Intercollegiate Athletics. "They have to find ways to supplement their budgets and pay for just about anything and everything when it comes to their sports."
Having drawn 40 kids to the Angela Athletic Facility at $5 a head (plus concessions sales), the Saint Mary's softball team didn't exactly bankroll their spring Florida trip, but enough money was raised to buy a new bat or two, or a couple dozen game balls. Every little bit counts. "We really didn't bring in too much, but it's going to help us," says Beechy, whose players entertained girls and boys in first through sixth grade from 6:30 to 10 p.m. on a Friday. "I have such a great group of girls here, and they just absolutely adore kids. It's more about them being able to let the community know what Saint Mary's softball is all about."
On this night, Saint Mary's softball was about staging separate basketball, volleyball and soccer zones on opposite sides of gym divider curtains. It was about running relay races, coloring and serving juice, pretzels and candy. "About 8:45 or so, some kids were like, 'Do you have a movie, so we can kind of sit and relax?' " Beechy says. And so Saint Mary's softball was also about "Finding Nemo."
Beechy got the idea to host a lock-in from Siena Heights University in Adrian, Mich., where she had served as an assistant softball coach and where lock-ins have been held on a semi-regular basis for years. According to Fred Smith, Siena's longtime men's basketball coach and athletic director, Saints teams typically raise more than half of their own operating budgets each year through various means. Drawing 200 kids on a good night, lock-ins in particular require a small time investment from student-athletes in search of big dividends.
"It's a hard four or five hours, but you make a lot of money," Smith says. "We raise $20,000 some years just by doing 15 or 20 lock-ins. Every sport has hosted them. It's one of our big fundraisers."
Promotion is key. Colleges can typically circulate fliers among students at area elementary schools and secure a free blurb in the local newspaper. "We have to get permission from our local schools, and then we hit those areas with handouts," Smith says. "The kids go home with a handout that says, 'Lock-in at Siena.' Parents know it's for a good cause, they know college kids are there, and they know their kids are going to be safe."
McClure, a former assistant coach and sports information director at Siena, cautions that care must be taken in targeting a lock-in audience. "We found that the junior-high kids were more trouble than they were worth," he says. "We also had a lot of parents who would bring in kids who were 3 or 4 years old. That's the other extreme. We didn't turn them away, because we saw every one of those families as potential customers. But we would have measures in place if the kids were a problem or if they weren't having a good time and wanted to go home. We always made sure that parents gave us a phone number when they signed in their kids."
Lock-in setup at Siena includes barricading the 57,000-square-foot field house's portable hardwood floor with chairs or divider netting to protect it from inadvertent spills. (Auxiliary hoops are still open for use, as is a 200-meter track.) "We always tried to have a refreshment station, a place where we would confine the food and drinks, but every once in a while some kids would escape," McClure says.
Schools should also seek concessions donations, allowing for the sale of, say, McDonald's orange drink at 100 percent profit. "We sold concessions because we felt that $5 was a very reasonable entrance fee," says McClure, adding, "In terms of revenue, concessions often represented 25 percent of what we made."
Distanced now from his days of running lock-ins, McClure offers some additional advice in hindsight. Since the total time commitment required of student-athletes is more like six hours (including setup and cleanup), McClure suggests splitting a given lock-in between two teams working in shifts. At the very least, student-athletes should rotate responsibilities -- from sign-in table to concessions stand to face-painting station and so on -- to keep it fresh.
Do the challenges end there? Not always. One year, a coat got stolen during a Siena Heights lock-in, prompting the school to institute a coat-check policy. The use of signed waivers relieving the school of responsibility for lost or stolen possessions is also recommended. Siena Heights administrators have been forced to refine their written liability language from year to year as new situations present themselves. "Sometimes parents don't pick up their kids," Smith says. "Here I am, driving them home in the middle of the night, dropping them off, making sure they get inside."
Is there an easier way to make a buck? Maybe. The web site campusfundraiser .com is filled with stories of sports teams and clubs that have pocketed thousands of dollars in a matter of hours selling magazine subscriptions and other products. Smith, however, would rather Siena Heights student-athletes be the product.
"I really don't want to ask them to sell things," he says. "I want them to do service fundraising." Siena Heights student-athletes have earned money for their teams by waiting on tables at campus dinner events, taking tickets at Detroit Lions games and working concessions at Michigan International Speedway. "It's great PR for our kids," Smith adds.
Still, few fundraisers generate better PR than a lock-in. "Parents were like, 'We're going to spread the word, because this is a great idea.' Those with four kids can't find a babysitter for three or four hours for $20," says Beechy, who hopes to see some of the same kids at her summer softball camps as a result of their face-to-face experience in December. Adds Smith, "Parents drop their kids off and then go to a movie. Around Christmas, it's great for shopping. And it's still working for us. The lock-ins are huge here. By 6 o'clock on a Friday, the kids are just lined up, waiting to come in."