Despite his reputation, former professional baseball player Lenny Dykstra starts a magazine to help professional athletes better handle their finances.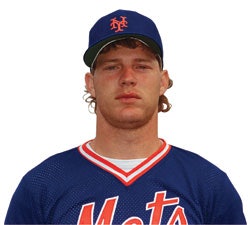 The mid-December announcement that former professional ballplayer Lenny Dykstra was helping start up a magazine, The Players Club, aimed at helping professional athletes handle their finances, was not so easy to square with the image of the mullet-sporting, perpetually dirty-uniformed leadoff man spitting out bits from a huge cheek-full of tobacco. Certainly, he has bona fides: columnist for TheStreet.com; president of several privately held companies, including car wash franchises; partner with Castrol in "Team Dykstra" Quick Lube Centers; owner of a ConocoPhillips fueling facility and a real estate development company.
Maybe it was the idea of "Nails" proffering advice on how to live, given his well-earned reputation as a brawler on the notoriously wild New York Mets of the mid-'80s and his later drunk-driving conviction stemming from an accident that cost Dykstra and his Philadelphia Phillies teammate, Darren Daulton, several months of the 1991 season.
Or, just maybe, it was the timing. The new magazine was announced just four days after Dykstra was named in the Mitchell Report on steroid use in Major League Baseball, and three days before his name turned up in Jason Grimsley's unsealed affidavit as an alleged user of steroids.
According to the Mitchell Report, the Commissioner of Baseball's office had known about Dykstra's steroid use since 2000. Subsequently, a 2005 lawsuit filed against Dykstra by his former car wash business partner claimed not only that Dykstra was a steroid user during his career but also that in 1993, while a member of the Phillies, Dykstra paid him by tipping select Philadelphia games on which to place bets, which he did at an average of $2,000 a game.
But then, you know, maybe Major Leaguers are really, really in need of financial advice. As Dykstra told The New York Times, "Players don't want to say they don't know about how to handle their finances because it's not manly. When you're making big money, you're going so fast, you don't think it's going to end, but it does end."