Investing in intelligent access control systems not only can enhance a facility's security, but also its bottom line.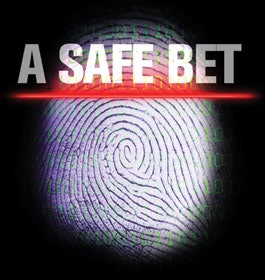 The Virginia Tech massacre, the Oklahoma City bombing, the school shootings at Columbine, 9/11 - these and other violent events have forever informed the dialogue related to security and access control at places of public assembly. But for the many operators of sports and recreation facilities who have seen their security budgets shrink in recent months, the conversation now also turns to money.
While attending a recent International Association of Assembly Managers trade show, Larry Legere, vertical market sales leader in the sports and entertainment division of GE Security, regularly overheard concerns related to security and access control budgets. "A lot of what we're seeing right now in the industry is being affected by the economy," Legere says. "Because people's budgets are not what they used to be, the important thing to them right now is the ability to scale. There's more that people want to do with security and access than they can afford to do today, so they want to make sure that whatever they are doing now they can add to six months down the road."
Scalability of security and access systems, however, isn't merely an issue of, say, buying 10 video cameras now and 20 more later; it requires the integration of new and existing systems, of hardware with software, and of new products with an existing network. That's why Legere and other experts in the field advise against trying to find short-term turnkey solutions to security issues, but rather, to conceptualize what the facility's long-term security, access and business goals are, and how different combinations of hardware (locks, card readers and security cameras) and software (membership management) can best be successfully planned and integrated to reach them.
The good news is that technological innovations are making such integration easier than ever; and, in the process, they're helping operators maximize facility usage and revenue. The following are technological advancements that have proven successful in helping keep facilities safer, while also helping to streamline business operations:
• Biometrics. No longer just the stuff of highly stylized cop shows and science-fiction movies, biometric scanning devices are becoming increasingly popular for access control in recreation centers and health clubs. "We're seeing readers for everything - fingerprints, hand geometry, voice recognition, face recognition, retina scanning and thermal signatures," says James Reyes, general manager of the Active Communities Division of the Active Network, a marketing and software company that lists sports, fitness and recreation facility operators among its clients. Reyes says one large city was recently spending $15,000 to $20,000 annually on identification cards and printers before switching to biometric scanning to control access to numerous facilities.
"Biometrics is pretty low-cost, it's easy to install, and it doesn't require a centralized network," says Reyes. "There can be challenges with user acceptance, but it's important to educate them on exactly how the technology is working."
Reyes acknowledges that many facility users who are new to biometrics scanning harbor the misconception that their actual physical data - a replica of a fingerprint, for example, in the case of fingerprint scanning - is being stored by the facility. In fact, the scanner takes an optical image of the finger. Then, using a digital coding formula, that image is translated into a series of numbers. "Basically, that becomes your biometric template," Reyes says, adding that the original optical image is then discarded.
From there, the scanner interfaces with the access control or membership management software, which integrates the same way that it might with a barcode scanner or a magnetic strip, allowing or denying access, for example. "From the perspective of fitness clubs, a campus recreation center or a military base, an advantage is that you're not linking to a specific membership card that can be lost, forgotten or stolen," says Reyes.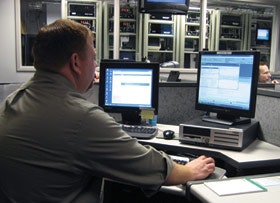 With properly designed analytics, security alarms can be sent to any number of locations, including security desks, PDAs, e-mail accounts and police.
• Radio-Frequency Identification (RFID).
A successful access control system will determine who has the ability to enter what part of a facility and when. But the data gleaned from access control systems can also help facility operators fine-tune their operations by monitoring facility usage and tracking employee whereabouts.
One glaring issue with many access systems is that they may be very good at tracking who enters the building, but lacking when it comes to determining when people leave or what they're doing while inside. Though RFID technology is still relatively young, many experts believe it will soon be making its way into recreation centers, health clubs and other athletics venues.
Allowing for hands-free identification screening, RFID requires the use of a tag (embedded into a student ID or club membership card, for example) that can be remotely read and processed by an RFID reader. "You don't have to present your card or badge to the device, but you can still track who's in the facility, as well as things like how many people are in different sections of the facility," says Andy Widgerson, vice president of sales and marketing for CSI Software, which provides a range of management software solutions for clients in the athletics and recreation industry.
Technology now allows for RFID readers to connect wirelessly to a network, eliminating the need to accommodate extra wiring and allowing for readers to be strategically placed throughout a given facility. Reyes believes these kinds of comprehensive access control solutions can provide operators with invaluable information regarding their programs and their staffing needs. "Time and time again, facility owners tell us they want to maximize the use of their facility," he says. "Well, are you able to automate and easily track your participation inflow? Can you run a quick report on what the peak hours of participation are at different parts of your recreation center?"
Naturally, the audit trail created when access control technology such as biometrics and RFID are integrated with membership and facility management software also can boost security efforts. "You control the access to people on programmable time schedules - only during the week, not after certain hours, not on these holidays, and so on. Privileges can be assigned and revoked on a very granular level," says Russell Bandy, GE Security's director of sales for vertical markets. "Someone may have accidentally used a card once in an unauthorized situation, but someone else could be doing it six or seven times, and each time the system comes back with an 'invalid badge' read. Now you can ask, 'Why has this person repeatedly tried to go through the storage room door? We ought to have a little sit-down with him.' "
• Smart Cards. Technologically advanced access control not only has the ability to deny users and employees access to physical spaces and track their whereabouts within a facility, it can also be employed to monitor individual activities with almost pinpoint accuracy. Already a popular choice among colleges and universities for creating vending systems, "smart card" technology is arguably underutilized in fitness and recreation settings, says Bandy.
Also known as integrated circuit cards or chip cards, smart cards typically take the form of plastic pocket-sized cards that have chips, or pads, that are embedded with integrated circuits that can store value (such as money) and process and transmit data (the change in the account balance, for example). While certainly useful for pure access control - automating and controlling accessibility to a facility and even its individual components - smart cards can also be used as security and business tools.
"If you have a big fitness club where you've got a problem with theft in the locker room, you can try to encourage a cashless environment - users don't need to bring any cash in; they can just use their smart card," says Bandy. "Perhaps you can also use the same card to log on to a piece of exercise equipment. You could be working with a personal trainer who might say, 'I see you spent this amount of time on this machine. How did the workout go?' What the card gives you is a multifaceted credential that can be used in a number of creative and innovative ways. It's this kind of technology that transcends the ability to just lock or unlock a door."
Legere is aware of major professional spectator facilities currently under construction at which operators are looking into essentially using a cashless, smart card system for concessions operations. "If somebody wants to go get a hamburger, a hot dog and three beers, all they would have to do is swipe a card," he says. "There is the thought that people will spend more money if they're not having to take cash out of their pocket. It's kind of like in a casino, where they don't allow you to play with cash because you won't spend as much. They want you to play with their chips."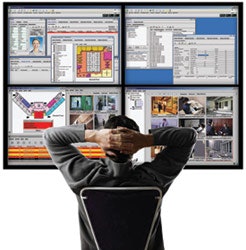 • Analytics. With vandalism, graffiti and loitering - let alone the prospect of violent crime or terrorist acts - among the common problems facing sports, fitness and recreation facilities, security is a high-stakes game. Legere says that prior to Sept. 11, 2001, major new spectator sports facilities may have opened with just a handful of strategically placed security cameras. "There are stadiums now that have several hundred," he says. While digital technology made the video review process much easier, the increase in target-hardening monitoring devices throughout the industry has provided operators with a new challenge. "It's one thing to watch 30 cameras, but it's another thing to watch 300," says Legere. "That's why analytics are so important."
Providing potentially limitless hours of mostly fruitless video to wade through, video is perhaps the security tool most augmented by analytics. It can work in two ways. First, a camera can be activated when alerted by an access control system. For example, an RFID reader can detect an unauthorized entrance into a room, and transmit a signal to the access control computer software, which can then tell a security camera to activate in that location.
Secondly, the camera system can have its own built-in analytic processes, technology that is remarkably sophisticated. Cameras can be programmed to detect physical intrusions and stay with moving targets, detect when bags or other objects are left unattended, detect the removal of stationary objects, and more. Depending on the capabilities of manufacturers or the specifications of facility operators, analytic cameras on a network can interface with software-based alarm systems.
At a high school football field, for example, if appropriate nighttime lighting conditions are put in place, a camera with analytics can help ward off such common problems as synthetic turf vandalism or bleacher theft. "You can have a camera focused on that field, and if something is detected there at a certain programmed time in a certain location, it can give you an alarm," says Legere. With intelligent security design, adds Bandy, that alarm can be programmed to transmit to any number of locations, such as a staffed security desk, an e-mail account, the PDA of a maintenance supervisor or the police.
Bandy also reminds facility operators that there's much more to access control systems than simply installing a new product or relying on new technology. "The cost of a camera on a pole may not be too high, but the cost of trenching and conduit and labor involved in running cables may preclude people from putting it up there," he says. "The holistic look at what you need, what you're trying to accomplish, what kind of human resources will be needed to intervene in a security situation or to investigate after the fact - all of those things will go into your intelligent design."
While a local recreation center or a college natatorium are not likely to be viewed by the U.S. Department of Homeland Security as a prime terrorist target, and they may not have enough employee or patron access issues to justify investing in a retina scanning system, CSI Software's Widgerson tells operators of all kinds of facilities that basic security and access control technology is a modern requirement for running a sound business.
"It really amazes me sometimes to see the lack of technology," Widgerson says. "Some people build these $25 million facilities and have no systems in place because they either didn't think of it or they didn't think it was important. I think you'd be out of your mind to not have some kind of technology to validate entry into your facilities."