Today's contract bonuses award college coaches for all sorts of achievements -- some of them rather dubious.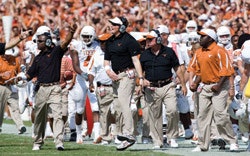 Last December, a never-before-evoked tiebreaker forced the University of Texas football team to watch from the proverbial sidelines as two rivals played in the Big 12 Conference championship game. This, despite the fact that the Longhorns had beaten both teams by double digits during the regular season and shared the league's best record with one of them. It wasn't until April that UT administrators decided to remove "2008*" - asterisk and all - from a Monncrief-Neuhaus Athletics Center wall commemorating the school's past Big 12 titles. But the UT athletic department opted nonetheless to leave untouched $45,000 in championship bonuses paid to a dozen assistant coaches and football staffers. (Head coach Mack Brown, who personally stood to gain $150,000 in bonus money had he a legitimate claim to the conference crown, got nothing.) UT athletic director DeLoss Dodds called the support-staff payouts "a chance to say thank you."
"I think it's smart," says Bob Lattinville, an attorney at Premier Stinson who represents dozens of college coaches in contract negotiations. "If you can keep those good assistants there and maintain continuity, it not only benefits you on the field but also with respect to recruiting. That's critical. Does it represent a lifestyle change for those guys? No. But does it make Texas different from other schools? Absolutely."
Schools that venture outside contract parameters to pay their coaches a little extra may be few and far between, but the use of performance incentives in contract language to lure and retain coaching talent is well established in college athletics. And lifestyles are changing big time. When former Washington State head basketball coach Tony Bennett accepted the Virginia job in March, he not only secured a $1.7 million-per-year contract, but another half-million just for signing it. If he stays with the Cavaliers for five years, UVA will pay Bennett an additional $500,000.
Sign-on and longevity bonuses are only the beginning. These days, schools are assigning dollar values to just about anything a coach might accomplish. Some schools pay their coaches extra for winning a predetermined number of conference games, then pay even greater amounts for each successive victory that season. Others promise coaches, regardless of their season record, bonuses for singular wins over specific rivals. Coaches who win conference or national championships are typically rewarded, as are those who merely reach postseason play. Advancing out of the first round of the NCAA tournament can translate to a basketball coach's six-figure take.
Several reasons exist for such deals. Athletic departments prefer to keep base salaries as low as possible, not only to ensure their ongoing fiscal viability, but as protection against huge payments of guaranteed money should the administration decide to terminate a coach before his or her contract expires. Paid only if some established measure of success is realized (Texas' generosity notwithstanding), bonuses are typically covered in-house by self-sufficient athletic departments or by outside booster funds. But even that doesn't guarantee a school will be spared the public perception that state dollars are being lavished on athletics at the expense of threadbare academic programs.
"When a school fills out the form for The Chronicle of Higher Education - 'Who's the highest-paid person at your school?' - the football coach doesn't necessarily show up as number one, because his contract is incentive-laden," says Andy Fellingham, executive director of InterCollegiate Athletics Consulting. "But some of the incentives are so attainable, they're almost like guarantees. If the guy can walk and chew gum, and he's still at the school, he'll double his salary."
Indeed, some observers think the incentive bar for coaches has been set too low. Wisconsin State Journal sports columnist Tom Oates took the University of Wisconsin athletic department to task in March for paying head football coach Bret Bielema a $100,000 bonus after leading the Badgers to a 7-6 record and a 42-13 loss to Florida State in the Champs Sports Bowl - the fifth of seven bowl bids awarded to Big Ten teams. "Even though the bonuses are paid with booster money and therefore don't cost the school a dime, this is all about perception, and the perception is this is easy money for coaches while the rest of the state-supported university struggles to make ends meet," Oates wrote. "If UW wants to change that perception, coaching bonuses should be earned, not handed out like Halloween candy."
As for setting the bar higher, Oates argued that the UW has already done so regarding its men's and women's basketball coaches, who no longer receive bonuses for securing a National Invitational Tournament or WNIT bid. Should either coach reach the final four of their respective tier-two tournament, or win it, bonus payouts aren't at the level they used to be.
Finally, the writer questioned UW's lack of coaches' incentives related to student-athlete academic achievement. On that front, Wisconsin has plenty of company, too. A recent Bloomberg News examination of 81 college coaching contracts found that 29 offered no academic bonuses. Of those that did, classroom performance incentives averaged no more than 6 percent of the coaches' total compensation. By comparison, on-field performance incentives constituted 35 percent. In citing the study, a January 2008 Higher Ed Watch blog used the contract signed three years ago by Arizona State football coach Dennis Erickson to highlight such disparity. In that deal, Erickson's $625,000 base salary could potentially be augmented by a maximum $1.105 million in on-field performance incentives, compared to $45,000 maximum in academic bonuses.
Once a coach has established a national reputation or a comfortable working relationship with his or her current employer, he or she is usually in a position to negotiate a higher guaranteed base salary, according to Lattinville, who cites new Kentucky men's basketball coach John Calipari's eight-year, $31.65 million deal as heavy on base pay, light on incentives. Contracts backloaded with bonuses make the most sense when dealing with untested coaches, or when a program is in full rebuilding mode, Lattinville says.
Fellingham suggests the actual bonuses that make the most sense are those tied directly to revenue generated. "If you bring in more money, we pay you more money," he says. "Victories and third-rate bowl games don't guarantee us money. What guarantees us money is selling more seats."
Contracts exist that pay coaches a cut of every ticket sold to their games. Others specify that coaches receive bonuses after a benchmark per-game average attendance figure has been eclipsed, or in the event that overall attendance has increased from one season to the next. Though they may appear straightforward, structuring revenue-related bonuses can be tricky. "Most institutions back away from that," says former Big Eight commissioner and College Football Association president Chuck Neinas of Neinas Sports Services, a consultancy serving Division I athletic departments in search of football coaches. "How much do you attribute to the coach, as opposed to other factors, such as marketing?"
"It gets twice as complicated if you're representing a women's basketball coach," says Lattinville. "Let's say you have a doubleheader. Well, if everybody shows up early for the women's game to secure the only good seats for the men's game, is that the women's coach's revenue or not?" Regardless of sport or gender, Lattinville adds that such bonuses, if used, should be structured with extra caution. "You need an auditing clause in there, because the numbers are easily fudged," he says. "Attendance may be up, but the school is also going to need additional security, and that eats into net revenue. It's really tough on those attendance bonuses to try to determine what the payout should be. It makes it more trouble than it's probably worth."
Bonuses allow schools with comparatively small budgets to compete in the hiring game, but big schools that continue to dangle carrots in front of coaches may find themselves losing on the PR front. Some, like Kentucky, have already chosen to guarantee multimillion-dollar base salaries for their marquee coaches while dialing back bonuses. "Obviously the amount of money is high enough that they don't have to go back and earmark incentives," says Neinas. "I think there may be more universities going to that approach, because it becomes less complicated."
Lattinville agrees. "I do think, particularly in this economic environment, bonuses are going to come under more scrutiny, and you'll see more athletic directors - and our firm represents athletic directors, too - coming under the scrutiny of their boards of regents. They're saying, 'This is ridiculous. You're paying a guy $2.5 million. Why do you have to give him a bonus?' The athletic directors may start to tell their coaches, 'Look, if I'm paying you $2.5 million, you don't really need additional incentives. If you don't have incentive to do your best all day, every day, well, then we have the wrong guy.'"