The 2019 Athletic Business Purchasing Survey offers our most complete picture yet of the athletics, fitness and recreation industries, with 1,075 respondents participating — our most ever.
If nothing else, that number lends considerable statistical significance to results that have remained fairly consistent since 2017, when AB began surveying professionals representing colleges, high schools, health clubs, YMCAs, military installations and other organizations to check their purchasing pulse.
Even in the context of a deepening respondent pool, the demographics of survey participants have shifted only slightly. As has been the norm, around half of all 2019 respondents represent intercollegiate or interscholastic athletics, with collegiate professionals comprising nearly a third of respondents and high school officials making up another quarter. Recreation professionals make up 28 percent of the pool, led by those in municipal recreation. Regardless of their chosen field, respondents reported serving populations of 16,000 people, on average.

Per usual, industry professionals are expected to make the most of available resources — some more than others. Thirteen percent of survey respondents indicate that their budgets for 2019 reflect a decrease in allocation compared to the previous year — a figure that's up slightly from the 2016 and 2017 survey results (roughly 10 percent in both). The percentage of those reporting a budget increase for the current year matches that of the 2018 survey at 27 percent — four percentage points down from the inaugural high of 2017. More than 60 percent of this year's respondents report budgets largely unchanged.
Facility improvements represented the largest 2018 expense (not including payroll or operations) for 32 percent of this year's respondents — a fact predicted by last year's survey — and 39 percent expect facility improvements to top their 2019 expense list, as well. Current projects range from resurfacings of tracks, fields and pools — even the painting of walls — to the construction of entirely new stadiums and arenas.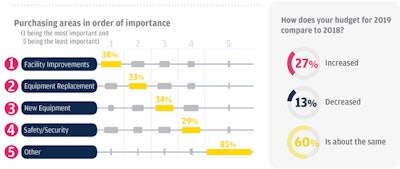 Major construction projects are either underway or beginning this year for 28 percent of respondents, while another 32 percent plan to embark on such a project within the next five years. While half of those reporting projects in various stages indicate that those projects will cost less than $5 million, 69 respondents (10 percent of the field) are readying projects of $20 million or more. These numbers are consistent with past AB survey data.
Twenty-four percent of this year's respondents pointed to sports equipment as their top expense in 2018, and another 15 percent identified fitness equipment. In the year at hand, however, only 18 percent of respondents expect to see sports equipment as a budget priority, while a steady track is predicted for fitness equipment purchasing. In fact, fitness equipment was singled out more than any other product category by 2019 survey respondents as their most satisfying recent purchase, with synthetic turf solidly in second place. Overall investments cover everything from group cycling bikes to team buses, and from pole vault landing pits to a helicopter.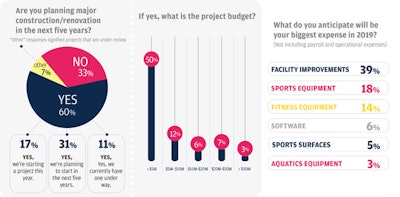 Funding sources for all purchasing are varied, with each of the following options identified by at least 17 percent of respondents: college/university budget, membership/user fees, donations/gifts/endowments and taxes or grants — the latter category leading the way at 26 percent.
The economy still drives most purchasing decisions, with a third of respondents placing the highest importance on it. Equipment innovations ranked a distant second at 20 percent, followed closely by sustainability/environmental concerns (18) and industry-wide programming trends (14).
Reputation trumps price when it comes to purchasing a specific product, just as it has in all three AB surveys, but the gap (33 percent reputation to 30 percent price) is the narrowest yet.
Athletic Business would like to thank those who took the time to contribute to our data-collection process. The more input AB receives from individual professionals in the field, the more meaningful future data becomes to the industries they serve.
---
This article originally appeared in the March 2019 issue of Athletic Business with the title "The Purchasing Survey 2019." Athletic Business is a free magazine for professionals in the athletic, fitness and recreation industry. Click here to subscribe.