It will be a year long remembered, but one we'd rather forget. From empty stadiums and arenas to shuttered health clubs and community centers, the athletics, fitness and recreation landscape in 2020 was at times nothing short of dystopic. As much as we all would prefer to be done talking about the coronavirus pandemic, its impact — clearly evident in the 2021 AB Purchasing Survey — can't be ignored.

Truth be told, COVID fatigue may help to explain this year's survey response — a sample size roughly a third that of our highest participation year (2019). What data we were able to gather is no less telling.
Questions added to the survey for 2021 speak directly to the atypical circumstances in which we found ourselves last year. When asked in November whether their purchasing plans had changed over the previous eight months, 77 percent of respondents said yes, and of those 78 percent cited the pandemic as the reason.
That volatility is borne out further in questions we've presented in each of the survey's five years of existence. When asked how this year's budget compares to last year's, a record 53 percent of respondents indicated that it has decreased — a full 40 percentage points higher than 2019 and 2020 marks. (The previous low "decreased" mark was 20 percent, in our inaugural 2017 survey.) That said, 41 percent of our 2021 sample survived 2020 with their budgets more or less intact, and 6 percent even reported budget increases. (By comparison, the previous four-year average for "increased" responses stood at 27 percent.)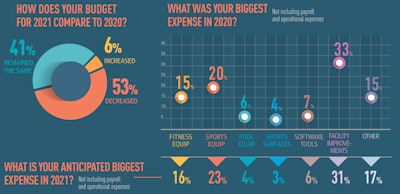 Facility improvement perennially ranks as the top budgetary priority for survey respondents, but the numbers dropped from 2020 to 2021 both in terms of facility improvement as a previous year expense (38 percent of our 2020 sample compared to 33 percent in 2021) and as a priority in the coming year (40 percent to 31 percent). Moreover, the percentage of 2021 respondents indicating they had no major construction or renovation projects in progress or planned for the next five years stands at 38 percent, a figure that represents a yearly upward trend from 25 percent in 2018.
The good news is that for the fifth straight year, our survey indicated that a clear majority of respondents do have a major project currently under way or in the works (though this year's 56 percent is down 4 points from 2020 and 2019 marks, and 11 points from 2018). In addition, individual projects reported this year appear to be slightly more substantial — with only 40 percent of all projects costing less than $5 million, compared to 46 percent in 2020, 50 percent In 2019 and 60 percent in 2018.
Not surprisingly — given the current climate, as well as past survey indicators — the economy carries the most weight when making purchasing decisions for 40 percent of 2021 respondents, more than doubling equipment innovation at 18 percent, with sustainability and programming trends both at 15 percent. Safety and security purchases are a higher priority for respondents according to this year's survey, but still trail facility improvements and equipment replacement.
Like 2020 itself, these results are not a joy to analyze, but AB would nonetheless like to express our appreciation to those in athletics (48 percent of this year's sample), fitness (14 percent) and recreation (28 percent), and others, who took the time to share their information with our larger audience. Candor — in good times and not-so-good times — helps us clarify the industry snapshot in any given year and hopefully provides intelligence as we focus on a brighter future.
---
This article originally appeared in the March 2021 issue of Athletic Business with the title "the 2021 Purchasing Survey." Athletic Business is a free magazine for professionals in the athletic, fitness and recreation industry. Click here to subscribe.