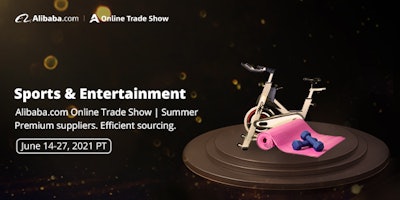 This sponsored content was paid for by Alibaba.com. What is sponsored content?
Discover premium suppliers and products at Alibaba.com Online Trade Show | Summer – June 14-27, 2021
Digital disruption and opportunity
We've seen the rapid expansion of digital technology continue to disrupt every aspect of how businesses operate. From billing and payment systems to information management and storage, to nurturing customer relationships, to interacting and communicating, digital technology is reshaping how business gets done. This includes how sports facilities keep their business stocked with the products and equipment they need to run smoothly.
Now, 93% of all U.S. companies are already doing some portion of their B2B selling or sourcing online according to an Alibaba.com study.
However, when it comes to digital purchasing and sourcing, professional buyers acknowledge there are challenges to overcome – especially when borders are crossed. Ensuring quality, access to more choices from different suppliers, finding products at a price and minimum order quantity (MOQ) that works for them and their needs, and managing smooth and fast delivery rank among the greatest hurdles for buyers.
The dramatic impact of COVID-19
The COVID-19 pandemic dramatically accelerated "going digital" as many aspects of the sports industry have had to make adjustments, essentially overnight, to keep their organizations running and avoid any slowdowns and interruptions in their business.
For example, amid the pandemic, B2B sourcing and selling via an online ecommerce marketplace grew by 14 percentage points -- from 21% to 35% -- between December 2019 and September 2020 (Source: Alibaba.com US B2B Small and Medium Business Survey, September 2020). Among the top reasons U.S. companies source online is to find and introduce new products faster, reach international markets, have greater supplier options, increase profit margins and, of course, drive revenue growth.
Business owners, sellers, and buyers have now been exposed to the upsides of embracing digital channels and ecommerce. As the United States quickly advances towards re-opening as early as this summer, businesses and organizations are in search of ways to successfully adopt these new tools and technologies for the opportunity to gain more efficiencies, and achieve new levels of growth and profitability – and allow them to come back stronger than ever.
Alibaba.com is leading the way
As one of the world's largest B2B and wholesale online marketplaces, Alibaba.com serves millions of business buyers and suppliers of all sizes across more than 200 countries and regions, offering a suite of powerful tools built specifically for B2B trade. Business buyers can discover new products and place orders on the Alibaba.com platform fast, securely, and efficiently and sellers can reach a global audience for their products.
With Alibaba.com, companies can:
Expand their international footprint. The inherently global nature of the Alibaba.com supplier base allows buyers—retailers, wholesalers, manufacturers, and service businesses-- to grow their reach digitally without the need to travel. Time zones become unimportant, allowing business discovery and communication 24/7.

Optimize shipping efficiencies. Buyers can take advantage of transparent, reliable, and cost-effective shipping and logistics services, simplifying the entire process. Intelligent algorithms recommend the best routes, and multiple freight forwarders and carriers are available to ensure end-to-end transparency and real-time tracking.

Source securely from around the world. Alibaba.com supports over ten major global payment methods and 50+ currencies worldwide. To reduce the risk of global trade, buyers who purchase on the Alibaba.com platform can use the free proprietary order protection escrow service, Trade Assurance. Through Alibaba.com Trade Assurance, if anything goes wrong such as issues with quality or shipping delays, Alibaba.com will assist in reaching a satisfactory outcome, including getting your money back.
To make it even easier, Alibaba.com recently introduced an Elite Partner Event that is accessible year-round. This vetted group of global suppliers represents innovative, new technologies and products in a variety of categories to help enhance your competitive edge.
One Elite Partner in the Sports and Entertainment industry is J.R.T Tech. J.R.T Tech is a world leader in the transformation to intelligent manufacturing, leveraging big data through the entire production process, and fundamentally shifting how they deliver large scale production to their customers.
By integrating advanced MES system and big data, J.R.T Tech's manufacturing capabilities can realize large scale production that is also highly customizable. The primary benefit of this progressive approach is it enables J.R.T Tech to help their clients introduce highly differentiated products at scale, allowing their brands to stand out in a highly competitive industry.
The additional benefits of collecting and utilizing data through the entire production process are many. The approach substantially improves the company's development capabilities, product capabilities, and quality control systems. It also allows J.R.T Tech to simulate the end-product experience before mass production, identifying and preventing product defects, and reducing product development cycles.
This capacity is especially vital in the sports category. As just one example, a recent client came to J.R.T Tech through Alibaba.com to develop and produce an unique weightlifting belt entirely of his own design. In delivering more sustainable, high-quality, low-cost production, the client was able to launch and grow to one of the hottest selling products in just 3 years, outselling all other weightlifting belts sold in national retail chains like Walmart.
Alibaba.com Online Trade Show | Summer: Premium suppliers. Efficient sourcing.
Trade shows are an incredibly valuable channel for business buyers to discover new suppliers and products and drive their bottom line. While in-person global shows are still on hold, Alibaba.com has been hosting a series of online trade shows that have resulted in tens of thousands of new connections.
In fact, right now, Alibaba.com is hosting Alibaba.com Online Trade Show | Summer from June 14 through June 27. The all-digital experience will feature more than 10,000 premium suppliers across a spectrum of 30+ categories on the Alibaba.com website.
"The Alibaba.com Summer Online Trade Show is a two-week event on the Alibaba.com website, where business buyers and sellers from around the globe can meet and do business with one another from the safety and convenience of their homes and offices," said John Caplan, President of North America and Europe, Alibaba.com. "Our new Online Trade Show experience empowers professional business buyers to connect and collaborate with premium suppliers, so that they can source more efficiently, effectively, and with ease."
The online trade show experience includes a host of benefits:
Premium connections with trusted suppliers. Buyers can easily reach out to selected suppliers with outstanding products and services, from R&D and tailor-made design to customer service and order fulfillment. To help buyers source efficiently and screen for quality, the "Verified" logo will appear alongside manufacturers that have been verified by independent third parties for industry-specific qualifications and services. When searching for product details or through company profiles, buyers can see these suppliers' strengths like corporate qualification, product qualification, and corporate capabilities.

Exclusive VIP Pavilion access*. Where the top one percent of Alibaba.com buyers can meet and negotiate directly with managers rated four stars and above from more than 1,000 suppliers.

Cutting-edge industry insights. Businesses will be able to hear from Alibaba.com leaders like John Caplan, President, North America & Europe, and Flora Yan, Head of Integrated Marketing as well as Dirk Kowslowski, Director of IFA, Kai Hattendorf, CEO of Ufi and learn from successful buyers and sellers on Alibaba.com. In-depth industrial reports filled with data and trends from Alibaba.com will also be available.

Pro Buyer Discounts*. Businesses who have upgraded to Pro Buyers on or before June 27 can receive a US $100 coupon to use on Alibaba.com.
Note: * Available only to qualified Pro Buyers
Learn more
Businesses can learn a whole lot more by visiting the Alibaba.com Online Trade Show | Summer, from June 14 through June 27. Premium suppliers and efficient sourcing are just a click away.