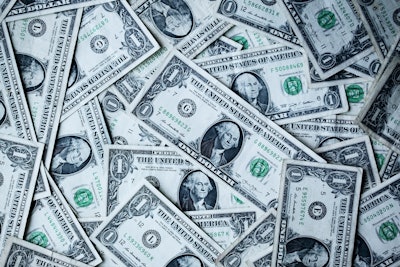 Reports beginning to emerge that reveal how some schools are shifting COVID-19 relief funds to sports-related needs.
The Associated Press on Wednesday reported that one Iowa high school is using $100,000 in COVID funds to renovated its weight room. While a Wisconsin high school is using $1.2 million to build a new football stadium. Yet another high school in Kentucky is using the money to pay for two new outdoor tracks.
The monies come as part of the American Rescue Plan, a $123 billion infusion intended to help schools reopen and recover from the pandemic, but few limits have been placed on exactly how the funds can be spent. 
Rep. Bobby Scott, the top Democrat on the U.S. House education committee, said the money was intended to be spent on athletics expenses.
"I suspect you can make a case for anything, but the purpose is clear: It's to open safely, stay open safely and deal with learning loss," Scott said. "These are targeted resources needed to address the fact that a lot of children just didn't achieve much for about a year."
Specifically the AP reports that when officials in Whitewater, Wisconsin learned they would be getting $2 million in pandemic relief this year, they decided to use most of it to cover their current budget, freeing up $1.6 million in local funding to build new synthetic turf fields for football, baseball and softball.
"If we don't do it now with this money, I'm not sure when we would ever do something like this," athletic director Justin Crandall told the school board in May. "I don't see us being a district that would go to a referendum for turf fields."
Two school board members in Whitewater objected to the use of the funds, noting that only $400,000 was being used to address student learning loss, which was the minimum to meet a requirement that at least 20 percent go toward that purpose.
Terra Wallin, an associate director of the Education Trust, said state education departments haven't done enough to police their schools' spending, and federal officials failed to provide clear guidelines for use of the funds.
Wallen hopes the U.S. Education Department will step in an issue new guidelines.
"There are going to be districts next spring that are going to be considering things like this," she said. "There's still time to influence them and make sure districts are doing the right thing."
In a statement, the Education Department said it has made clear the funding must be used on "reasonable and necessary" expenses responding to the pandemic. It said there's "ample evidence" of districts using the relief to keep schools safe, including by increasing access to vaccines, implementing virus testing and improving ventilation systems.
"We continue to strongly encourage every district to use these funds to help address these issues, including by using our Return to School Roadmap and by providing guidance on how to use these funds," the department said.
The recent push has been a boon for some exercise equipment manufacturers, as they reach out to schools in hopes of landing contracts to equip the new facilities the schools are building.
May, CEO of Commercial Fitness Equipment in Eugene, Oregon, told the AP he's averaging five new school projects every week. So far, his company has taken on $25 million in weight room updates funded with pandemic aid, he said.
May said the calls he's getting are often from underfunded districts that want the kind of facilities their wealthier peers have. Some, he said, are just looking to spend their federal aid within the three-year deadline.