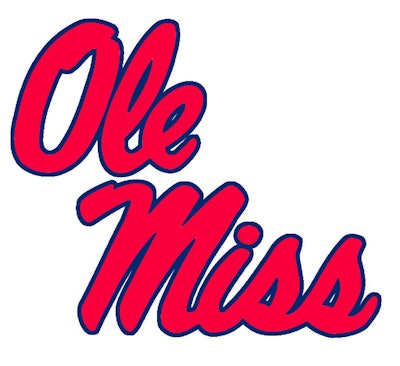 University of Mississippi senior long-jumper Allen Gordon made history Friday when he picked up a $2,990 check from the school — a transaction made possible by the Supreme Court's landmark ruling granting schools the right to provide athletes additional financial support for academic achievements.
It is the first such payment of its kind, according to Sports Illustrated.
Ole Miss, the first known school to start cutting such checks, is splitting the distribution into two payments—one in the spring and one in the fall.
On Friday, Ole Miss became the first to distribute academic bonuses. Funded by FB ticket sales, Rebs will spend $2.5M giving 415 athletes $6K each.

The qualifications? Be academically eligible.

"Everybody is going to do it, for sure everybody in the SEC"https://t.co/CnIifPV2XT

— Ross Dellenger (@RossDellenger) November 20, 2021
Gordon was able to receive the payment because he was academically eligible — Ole Miss athletes who met academic requirements the previous semester and who are on an active roster (walk-ons included) meet the criteria for this academic bonus.
The high court's ruling makes it possible for programs to offer an assortment of educational-related benefits, including unlimited graduate school, vocational and study abroad scholarships, paid internships, computers and equipment, tutoring and up to $5,980 in cash for "academic awards," according to SI.
The Rebels will spend $2.48 million a year in the additional payments for roughly 415 athletes, Carter says. This year, the payments are being funded through football season-ticket sales. With the 12th-ranked Rebels enjoying an 8–2 start, the university has generated more on ticket sales than expected and will use the excess revenue to fund the additional financial support to athletes. In the future, the school will include the payments as an annual budget line item.
"Everybody is going to do this, for sure everybody in the SEC," says Ole Miss athletic director Keith Carter. "We thought, 'Let's get ahead of this.'"
According to SI, dozens of schools around the country are finalizing plans to begin distributing such checks to their athletes, though some with employ stricter eligibility criteria. The ACC, SEC, Pac-12 and Big 12 have all announced they plan to allow their schools the right to determine how to handle the NCAA vs. Alston ruling — a 9-0 Supreme Court decision in June that opened the door to these payments in a major blow to the NCAA's amateurism model.