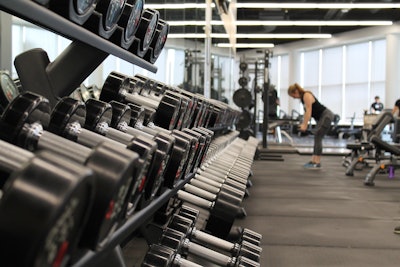 The fitness industry was hit hard during the pandemic, with IHRSA reporting that 22 percent of gyms closed permanently, but one franchise is now claiming that it has been relatively unscathed by COVID-19.
Speaking to Yahoo Finance Live, Planet Fitness CEO Chris Randeau said that his company didn't lose any locations over the past two year.
"I am extremely happy to say we lost no gyms in the pandemic. The industry lost 22% of the gyms open, closed permanently. We lost none," Rondeau said.
Yahoo reports that Planet Fitness currently operates 2,254 locations.
Rondeau says the company is doubling down on its success with planned new investments in the business. He said Planet Fitness will spend $800 million to acquire Sunshine Fitness, which will add 100 company-operated locations to the company's portfolio.
After the Sunshine deal closes, Rondeau estimates that about 10 percent of Planet Fitness locations will be company operated rather than franchisee-led.
"Those franchisees have been some of our best-performing in the system," Rondeau said of the Sunshine deal.
Rondeau suggested Planet Fitness' success is reason for investors to be optimistic.
"We believe investors should appreciate that Planet Fitness has 1) a capital-light, low-risk, defensible model with attractive pricing, 2) a large and growing unit presence, 3) an advertising flywheel and expanding affinity network, and 4) enhanced digital strategies that reduce friction," said Jefferies analyst Randal Konik.