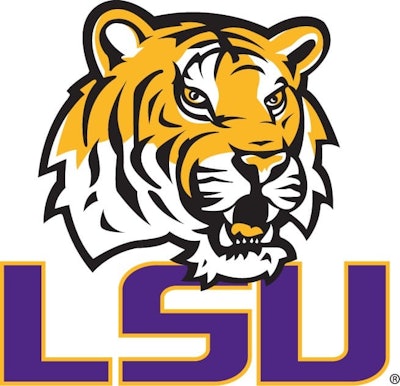 Louisiana State University accidentally overpaid Tigers football coach Brian Kelly more than $1 million during the first year of a 10-year, $100 million contract, but discovered the error and has moved to correct it.
As reported by The Associated Press, the error was announced Wednesday by the Louisiana Legislative Auditor's office.
Kelly was overpaid $1,001,368 in supplemental payments in 2022 because of duplicate payments made both to Kelly's LLC and to the coach directly, according to the AP.
The double payments began in May and continued until LSU officials detected the errors in November.
"LSU management and the head football coach have enacted an adjusted payment schedule so the amount of overpayment will be recouped by the conclusion of fiscal year 2023," the Legislative Auditor's report stated, as reported by the AP.
Even considering the confidence in Kelly evidenced by his contract terms, Kelly exceeded expectations in his debut season. He took a program that had gone 6-7 in 2021 and led the Tigers to a 10-4 record and the SEC West Division title. The 2022 season was capped by a 63-7 victory over Purdue in the Citrus Bowl.
LSU responded to the audit with this statement, as reported by NBC affiliate WVLA in Baton Rouge and brproud.com:
"In November 2022, LSU staff members discovered an error in payments processed for Head Football Coach Brian Kelly. Coach Kelly inadvertently received double payments over the course of several months, resulting in an overpayment. Upon the discovery of the error, LSU notified Kelly and instituted a corrective payment plan through which the university will recoup its overpayment by the end of fiscal year 2023. The matter was the fault of administrative oversight and has been rectified."
After calculating revenues and expenses, the athletic department had an overall profit of $1,943,722 last year. Football was the primary moneymaker.
According to the Louisiana Legislative Auditor, the football program brought in $95 million in revenue. Expenses of $59 million and ended the year with a $36 million balance.
Men's basketball had a $1.7 million income while women's had a $6.5 million deficit. Other sports had a $22.9 million deficit.
In addition to the overpayments to Kelly, the audit found that LSU misclassified $6,667,000 in severance payments as coaching salaries, benefits and bonuses on its Statement of Revenues and Expenses. In addition, it understated $139,895,732 in Tiger Athletic Foundation debt on its NCAA Financial Report, which was later corrected, brproud.com reported.