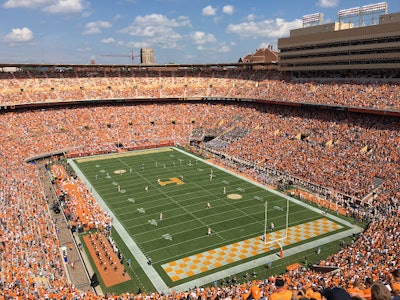 Building off the momentum of an epic 11-win season last fall, Tennessee Athletics announced this week that it has surpassed its football season ticket sales goal with over 70,000 purchased for the 2023 campaign.
As of April 11, Tennessee has sold 70,255 football season tickets — nearly 10,000 more than its target of 61,000. T
The university said it saw a 96 percent renewal rate among season ticket holders. In addition, Tennessee has sold 8,996 new season tickets for the next season.
"In an era of stadium downsizing, Vol Nation continues to send a strong message that its passion is unrivaled with over 70,000 season tickets sold and still five months until kickoff," said vice chancellor and director of Athletics Danny White. "We envisioned that goal by year five when we launched Rise Glorious, but Vol Nation's unwavering support and the excitement surrounding the program allowed us to eclipse that benchmark in year one. We are ecstatic to be on the cusp of selling out our season ticket inventory!"
The school said that less than 300 season tickets remain on sale in the north end zone social deck of Neyland Stadium.