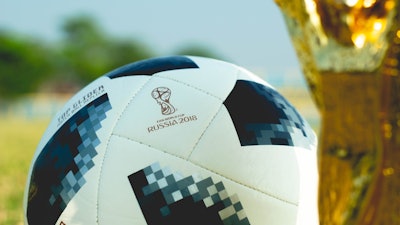 After FIFA received pushback for a plan to allow Russia to compete in the upcoming World Cup under a generic name, the federation announced late Tuesday that Russia has been suspended and will not be allowed to compete.
According to ESPN, Russia have been kicked out of the 2022 World Cup in Qatar by FIFA after the world governing body and the European association, UEFA, issued a joint statement to confirm that all Russian national teams and clubs have been suspended until further notice following the invasion of Ukraine.
Poland, Sweden and the Czech Republic had all previously announced that would refuse to play scheduled games in Russia. Spartak Moscow has also been removed from the Europa League.
In a statement, FIFA and UEFA said: "Following the initial decisions adopted by the FIFA Council and the UEFA Executive Committee, which envisaged the adoption of additional measures, FIFA and UEFA have today decided together that all Russian teams, whether national representative teams or club teams, shall be suspended from participation in both FIFA and UEFA competitions until further notice.
"These decisions were adopted today by the Bureau of the FIFA Council and the Executive Committee of UEFA, respectively the highest decision-making bodies of both institutions on such urgent matters.
"Football is fully united here and in full solidarity with all the people affected in Ukraine. Both Presidents hope that the situation in Ukraine will improve significantly and rapidly so that football can again be a vector for unity and peace amongst people."
The Football Union of Russia said it reserves the right to challenge the decision.
U.S. Soccer issued the following state on Monday in support of joining other soccer federations in refusing to play any games in Russia.
"The U.S. Soccer Federation stands united with the people of Ukraine and is unequivocal in our denunciation of the heinous and inhumane invasion by Russia. We will neither tarnish our global game, nor dishonor Ukraine, by taking the same field as Russia, no matter the level of competition or circumstance, until freedom and peace have been restored. #WeStandWithUkraine."
According to NBC Sports, athletes from Russia and Belarus are barred from all top-level international skiing and skating events until further notice. The move followed after the International Olympic Committee board issued new recommendations on the matter.