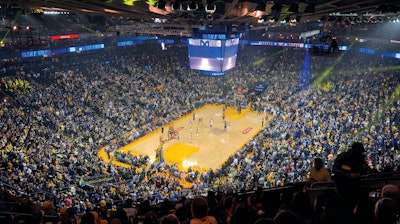 In June 2021, the National Basketball Association issued calls for submissions from technology startups as part of its new Launchpad program, which aims to evaluate and pilot emerging technologies that will help evolve the game of basketball.
According to the league, in the inaugural year of the Launchpad program, it received submissions from a diverse applicant pool across 25 countries, ranging from early-stage startups to large research institutions. The NBA has identified four priority areas for the program, including ankle injury innovation, elite youth player performance, referee training and development, and youth health and wellness.
In January of this year, the NBA selected five companies — Better Guards, Breathwrk, Nextiles, REZZIL and Uplift — from its pool of applicants. The chosen companies, which currently address challenges in other sports, are now working alongside league and team advisors on research and development projects to create solutions that translate to basketball. As part of the program, the chosen companies will also have unique access to NBA events, as well as exposure to the NBA's ecosystem of partners and investors.
Here's a look at the chosen companies and the tech they're working on to improve not only the game of basketball, but all sports:
Better Guards
On its website, Better Guards notes that there are more than 200 million ankle injuries globally every year, and 70 percent of those result in residual disabilities or chronic instabilities. Around 25 percent of all sports-related injuries affect the ankle, and basketball is one sport that sees a good portion of those types of injuries.
Better Guards creates high-tech protective ankle braces, as well as shoes with built-in ankle support. Like a seatbelt, the Better Guards technology allows a wide range of motion while joints are effectively protected from injury-causing movements.
Breathwrk
Breathwrk is a rather simple solution in the form of a mobile app that the company says can help virtually anyone "alleviate stress and anxiety, fall asleep faster, energize yourself, or improve endurance."
The app employs the same techniques used by Olympic athletes, psychologists, yoga experts, Navy SEALs and expert meditators. According to the company's website, the app, which can be downloaded from Apple's App Store or the Google Play Store now has more than 1 million users.
Nextiles
Nextiles is a textiles manufacturing startup that blends traditional sewing techniques with printed circuit boards to create smart fabric. The company recently announced a newly designed software development kit (SDK) that will enable any existing application to access Nextiles' software platform and leverage its human movement analytics to build custom algorithms and partner-specific metrics. Through its manufacturing process, Nextiles smart fabrics allow for complete biomechanical and biometric sensing.
Once the SDK is integrated into a partner's app, companies will be able to deploy Nextiles' sensors specific to their customers' needs and in a variety of use cases. By capturing the novel datasets, software developers will be able to build proprietary algorithms for each use case and personalize insights through machine learning. From biomechanics in sports to biometrics such as EMG sensing and heart rate monitoring, Nextiles has developed a modular platform that can plug into any existing back end.
REZZIL
REZZIL offers a software platform that currently provides soccer teams with tools for post-match analysis, athlete rehabilitation strategies and virtual training.
REZZIL's post-match analysis tool harnesses the power of multiple data platforms to replay, analyze and instantly view all kinds of data from any angle. The company also offers a platform for creating drills for players, as well as software that can track and analyze player rehabilitation.
Uplift
Uplift's movement analysis platform allows athletes to capture 3D biomechanics directly from their smartphones. The company says the application allows athletes and coaches to "make data-driven decisions and help athletes perform to their true potential."
The platform is notably being used by Major League Baseball "in the cage, on the field or in the weight room." The AI-powered technology provides analytics to improve performance while minimizing injuries. The application and service are offered to individuals, as well as through packages for teams and organizations.