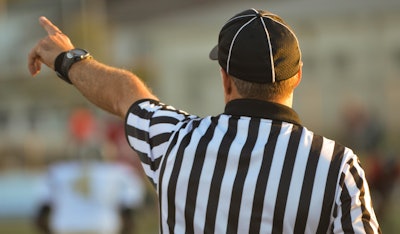 The Minnesota House of Representatives is considering a new bill that would levy civil penalties, including a $1,000 fine, on unruly fans at sporting events.
Rep. John Huot (D-Rosemount) is sponsoring the bill. Huot spent 20 years as a youth sports official and thinks fan behavior has gotten worse over the years.
"Who hasn't been at a game where you look and go oh my god, I can't believe that guy," Huot told KELO.
The bill, which was originally created to elevate the criminal penalty for assaulting a referee, now seeks to address those situations with a civil penalty.
"In light of some situations that are happening in Minnesota right now — I relooked at it; had our research team look at what possibly can be done, and they came up with the solution of a civil penalty," explained Huot.
On specific incident that triggered Huot involved an unruly fan at a youth game in Detroit Lakes, MN.
"In this situation, this individual was sitting behind the players — he didn't get tossed [out] until he threw the popcorn at the referee on the floor, and then he got tossed and he came down, walking over the player's bench, [and] grabbed the referee's lanyard," Huot recounted.
The man is now facing assault and disorderly conduct charges after he yanked the whistle off the referee's neck. Huot said that under the new bill, the man would still face criminal charges but also a $1,000 fine.
The new bill would only apply to fans and not coaches or players, and would only kick in once a fan was already likely getting charged with disorderly conduct. The responsibility of dispensing this penalty would fall into the hands of the Minnesota Amateur Sports Commission.
"It's a sad day when we have to regulate this," Hout said. "We forgot that it's not about the D1ers or anything like that — this is about a positive experience, win or loss. Everybody that's been an athlete knows — they don't remember the wins or losses, and you don't want to be part of the memory where that was your dad standing in the stands that was going to get tossed out."