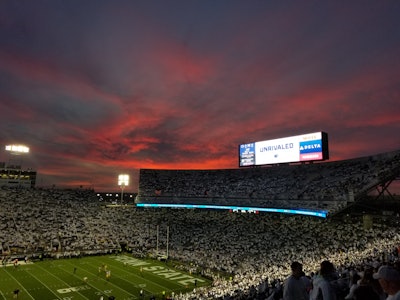 Set to become the first Power Five conferences to expand to 16 teams, thus cementing themselves as the two most-powerful collegiate conferences in the country, the Big Ten and the SEC are separately examining how to schedule future football seasons.
First, Sports Illustrated reported Friday that the Big Ten, which usually schedules football games five or 10 years in advance, decided last week that the conference schedule for the following season will be set in October. League officials believe the change in scheduling gives them more flexibility in creating the calendar of games each season.
The scheduling maneuver comes as the league includes its new television partners — Fox and its affiliates FS1 and the Big Ten Network, CBS and NBC and its direct-to-consumer streaming platform Peacock — after solidifying its new seven-year, $7 billion rights agreement.
"Now that we have [the new broadcast partners], we can begin that conversation and determine that type of thing," Ohio State University athletic director Gene Smith said Thursday. "Is it based upon who's going to be strong next year? Or based upon dates or whatever. Go from there."
One key element that league officials must decide is whether the conference will keep its divisions. With USC and UCLA joining the conference in 2024, Smith believes removing divisions will make the scheduling process easier. The move would also allow for the two teams with the best records in the league to play in the conference championship game each year.
The conference is scheduled through 2025, but changes due to expansion and the TV deal are imminent.
If the Big Ten votes for conference play without divisions, the conference must also determine its tie-breaking procedures for a division-less conference title game. The league could also increase its conference schedule from nine to 10 games, according to Smith, who was is in favor of limiting the conference slate to eight games — an option negated by the new TV deal.
ESPN reported Saturday that there is mounting momentum among SEC schools to go from eight conference games to nine in football once Oklahoma and Texas join the league.
The league's athletic directors held their regularly scheduled meeting earlier last week. Administrators and coaches from multiple schools in the league said the feeling now is that the SEC will ultimately land at nine conference games with a 3-6 format when the new scheduling model is announced. Oklahoma and Texas are set to join the SEC in 2025 and possibly a year earlier. The proposed nine-game model would include three permanent opponents each year and then a rotation of six other opponents.
"Going to nine games not only adds value for TV, but protects season-ticket sales, donations and College Football Playoff access for more teams," one SEC athletic director told ESPN.
Another league source said there were a few schools on the fence between eight and nine games back in May during the SEC spring meetings, but added, "I think there's ample support now to get to nine. More rivalries can be played on an annual basis, and the content that an extra league game would provide for TV would mean a lot more money."
One of the frustrations for many around the league with the current scheduling approach is how long teams go without playing each other. For example, Georgia has never played in College Station against Texas A&M, which joined the league in 2012.
"If the vote were taken today, it would be nine games," an SEC athletic director told ESPN. "I thought we were there in May, too, but there was some flip-flopping. I think most of those schools have crossed over and will probably vote with the room."
Some coaches have voiced support for nine games. Alabama's Nick Saban has long been a proponent and said schools "owed it to the fans to play more good games. If we don't, they're going to quit coming."
Texas coach Steve Sarkisian has said it was important that the Longhorns be able to play Oklahoma and Texas A&M every year once his school begins play in the SEC. The only way to do that would be to play nine games with a 3-6 model.
Several ADs said they are hopeful the schedule plan will be finalized sometime this fall before the 2022 season is complete.