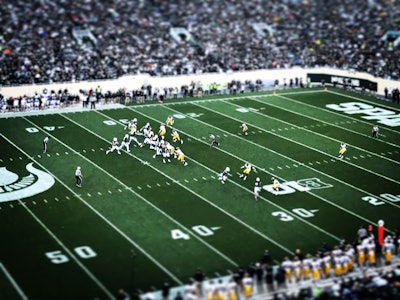 College football games consistently take longer to play than NFL games, and some think rules changes are in order to better align with the pace of the pro game.
As reported by Sports Illustrated, which spoke to several sources with knowledge of the situation on the condition of anonymity, two non-controversial proposals include prohibiting consecutive timeouts within the same dead-ball period (so as to "ice" a placekicker, for example) and no longer extending a first or third quarter for an untimed down if the quarter ends on a defensive penalty (the down would be clocked starting the next quarter).
Two more proposals look to save even more time — and one about twice as much as the other. Under a third proposal, the clock will continue to run after an offense gains a first down except inside of two minutes in a half, which tests have shown to eliminate between seven and nine plays over the course of a game. A more controversial fourth proposal would see the clock continue to run after an incomplete pass once the ball is spotted for play, which could eliminate perhaps twice as many plays, but even NFL rules don't go that far.
Last season, the average FBS game lasted 3:21 — the second time that figure has been reached in three years (2021 saw a slightly average of 3:18). Some games can approach four hours, and about one-fifth of 2022 FBS games went longer than three and a half hours. By comparison, most NFL games conclude in 3:10 of regulation time.
The reasons, according to Ross Dellenger of SI, include the following:
FBS games feature roughly 25 more plays from scrimmage than a typical NFL game.
The NFL is more efficient offensively (fewer incomplete passes, for instance), which helps in both game length and pace of play.
Professional halftimes span just 12 minutes compared to college football's 20.
The replay system in the NFL relies upon a coaches challenge system, whereas in college an official in the press box reviews each play for accuracy. (A college coaches challenge system may be an additional rule-change proposal at some point.)
Despite what can seem like interminable TV timeouts (especially to those attending games), television is not a major factor in the length of college games. According to Dellenger, games not televised during the 2018, 2019 and 2020 seasons took only about two minutes less time than those on TV.