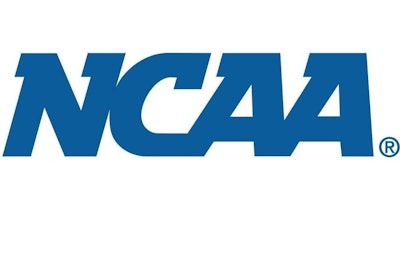 Michelle Morgan never planned on becoming a director of athletics, a role she's held at John Carroll since April 2018, let alone a commissioner, a role she'll start for the Atlantic Hockey Association and College Hockey America in April.
She's thankful life had different plans for her.
A former ice hockey player and marketing management student at St. Thomas (Minnesota), Morgan started her post-playing career in professional sports. She spent time with the NHL and NFL before returning to the world of college sports, an industry in which she's become a leader.
Morgan has served as the chair of the Division III Management Council and has spent time on several committees in the NCAA structure. In July 2022, she received an honorary ESPY as the Administrator of the Year for her outstanding work in leading the department, including adding women's wrestling as the 24th varsity sport at John Carroll. She's also a graduate of the NCAA leadership development Pathway Program and the NCAA/Women Leaders in College Sports Institute for Advancement.
While attending a WeCOACH event as a panelist in February, Morgan sat down with us to share her perspective on Title IX and talk about the women who inspired her, her time as a student-athlete, her career path and her advice for other women who want to thrive in the industry. (Note: This interview has been edited and condensed.)
When you think about women who have impacted your life and your career, who inspires you the most?
My momma. I come from a strong line of women who have definitely made sure there was some tough love … and I knew where my moral compass was. When I started in collegiate athletics, I worked for a woman who had been in the industry forever, and she truly was a product of Title IX who had every job under the sun. She worked in the equipment room and she was a coach and she was an administrator, and she really took me under her wing. Her name is JoAnn Andregg (former associate director of athletics and senior woman administrator at St. Thomas). She's since retired. My time at St. Thomas coming into this industry and coming into collegiate sports really helped show me how hard she had to work for where she was and really gave me a lot of gratitude and perspective to make sure I appreciate where I am and know that it wasn't possible if not for the work of many before me.
How has Title IX impacted your life?
I wouldn't be where I am today without Title IX. As a former student-athlete, I grew up actually playing boys high school hockey because there weren't opportunities (for girls). That since has changed. Then, having the opportunity to play on a women's team at college — I played hockey for four years in college — and really having a voice and a seat at the table as I climb the ranks as an athletics administrator and being an SWA and now ultimately an athletic director, that would not be the case if it weren't for Title IX.
What are some of those life lessons you learned as a student-athlete that you now apply as an administrator and in your work with student-athletes?
Being a former student-athlete, I think I draw on those experiences and those life lessons every day while being in a leadership role on campus. Really the ability to understand what our young people are going through — life looks a lot different, especially post-COVID — but it's the aspect of resilience and coming back and knowing that failure or a loss isn't always the end result. There are lessons in that that are embedded that sometimes we have to peel back the layers and say, "OK, this is going to give me some character and some life experience that I'm going to draw on later in life that might be difficult." But really the ability to connect with our young people and watch them grow on this journey from 18 to 22 and see what great things they do in the world is pretty impactful.
Going back to your time as a student-athlete, was this career path your vision at the time, or did it take a turn at some point along the way?
(Laughs.) I laugh because this is not where I thought I was going to end up. I was afforded the opportunity to be introduced to sport on the business side of sport, in particular in hockey. I started my career in pro sports. I started my career working in the NHL and the NFL, and then I said, "Hey, what about this collegiate space? Let me explore this a little bit better." So I never set out to be an athletic director. My path has kind of carved day-by-day as I commit myself to the work that I do, but really I found a lot of meaning in the work that I get to do in watching young people grow, developing our coaches, developing our student-athletes because that develops me just as much. And that's really what fills my cup is to see the success that these people achieve, whether it's professional, whether it's personal, whatever is important to them, however they measure success, it's the ability to come back and say, "Wow, that was pretty special that I got to share that moment of your life with you."
What does "Why D3?" mean to you, and why is that division so special to you?
"Why D3?," the tagline that we often use in Division III for quite some time, I think that people don't fully understand the essence of Division III until they've been immersed in it. I'm biased. I came up as a student-athlete in Division III. I've worked for Division III institutions, and it's about the people. It's about people who are there for the right reasons. Their priorities are academics first and the balance of being a student-athlete, but also having a life that is involved in community, whether that be in jobs or internships, whether that be in community service. But really to have a very robust lens of that collegiate experience, and I know that was important to me. I wanted to do a lot of different things in addition to sport, and that was a platform and an opportunity that allowed that for me. And I see that day to day in our young people that want to do a little bit of everything but really find sport important and want to continue in that discipline and continue to hone their craft and learn those life lessons and compete at a high level. Division III allows them that opportunity.
Tell us about your experience in the NCAA's Pathway Program as an alum. How did that impact your career?
The Pathway Program, really it's a boot camp for being an athletic administrator, and I didn't know what I didn't know. That really changed my life, not only the people that I went through the program with who are now lifelong friends, but I've had administrators that I've worked with who are now in the program or have gone through the program. And it makes my heart so happy to see what opportunities they're going to have because I know what it did for my life. I go back and I still look at notes and draw on those very powerful experiences, but I think the aspect of such a small cohort model that is a yearlong experiential environment really allows colleagues to be vulnerable, and it allows us to understand our differences. But then that's also what makes those relationships so strong to go back to and say, "Hey, I don't know how to navigate through this. Have you ever done this?" I know in confidence I have people I can trust because it's pretty lonely at the top when you get to that chair, and that program I owe so much to because I would not have been prepared for the chair I sit in today if I had not gone through the Pathway Program.
As someone who's benefited from programs offered by NCAA leadership development and later facilitated at some of those programs, including the Student-Athlete Leadership Forum, what can you say about the opportunities available through that group at the national office?
The programming that leadership development offers at the NCAA is really a great opportunity for people of all different levels and all different experiences to tap into to try to level up in what's next. It also opens doors to figure out what might be possible, what other aspects of sports and administration or coaching might be available that they might not have been exposed to. But it also allows for representation and building pipelines for people who might not always have the opportunity, whether it be ethnic minorities, whether it be by gender, so those opportunities I'm grateful for and being a product of leadership development and what the NCAA offers us and pours into us as members to help us step up our game.
What would your advice be for young female administrators who want to possibly follow a path like yours to leadership positions in college sports?
I feel like students ask me this often. What I tell young people who want to get into this industry is use the title of student to your advantage. Before you need that job, build your network, have a cup of coffee with somebody, pick somebody's brain, but also be respectful of their time, to be prepared with, when you have the opportunity to sit down with somebody, what are those questions, what are you trying to get out of it? Because people's lives are busy. Write thank you notes. I'm a sucker for handwritten thank you notes. I love that; it's a lost art. But in that same breath, it's OK to not know exactly what you want to do. I didn't know I wanted to be an athletic director until I was 30-something years old. And I ended up here and I love it, and it's changed my career path. I think it's being intentional about the relationships and the network and really asking for help before you need it.