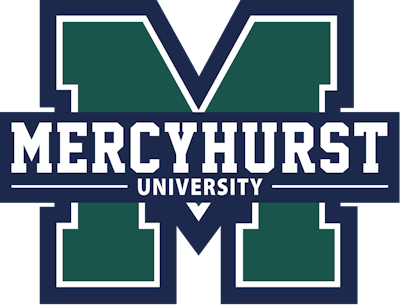 Mercyhurst University has suspended three student-athletes after video emerged of a Mercyhurst hockey player pushing an unoccupied wheelchair down a flight of stairs at a club.
"After conducting an initial investigation into the incidents depicted on social media, the Mercyhurst University Athletic Department has determined that three individuals in the video are student-athletes," the university said in a statement. "We have placed all three on interim suspension from their athletic teams per school policy, pending the outcome of the investigative process."
Related: Mercyhurst Hockey Player Under Investigation After Pushing Wheelchair Down Stairs
Julia Zukowski (username @juliazukowski) tweeted the video, identifying the person in the video who pushes the wheelchair down the stairs as Carson Brière.
"I usually don't post anything serious on my twitter but something happened Saturday night and just can't stomach the thought of this kid getting away with it," Zukowksi wrote. "In the video below is a @MercyhurstU student and is currently on the @HurstMensHockey team. Carson Brière."
Brière is the son of Philadelphia Flyers interim general manager and former NHL forward Danny Brière.
"I am deeply sorry for my behavior on Saturday," said Carson Brière in a statement. There is no excuse for my actions, and I will do whatever I can to make up for this serious lack of judgment."
"I was shocked to see Carson's actions in the video that was shared on social media yesterday," said Danny Brière in a statement. "They are inexcusable and run completely counter to our family's values on treating people with respect. Carson is very sorry and accepts full responsibility for his behavior."
Mercyhurst University also issued a statement late Wednesday afternoon:
"Mercyhurst University has heard a considerable outcry regarding the social media video of student Carson Brière showing him pushing an unoccupied wheelchair down a flight of stairs. Mr. Brière today issued a statement taking responsibility for his actions, and in doing so, he recognized his behavior reflects a "serious lack of judgment" and that he is "deeply sorry." The actions displayed in the video make our hearts heavy and fall short of our Mercy belief in the inherent dignity of each person. We pray for and are in solidarity with the victim and all persons with disabilities who rightfully find actions like this to be deeply offensive. Our Mercy tradition also reminds us that students and all people who make poor choices deserve opportunities to learn, change behaviors, and atone for harmful actions."
---