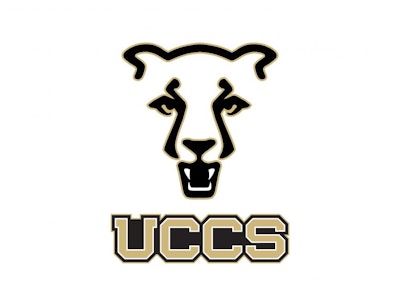 While the topic of mental health is front and center across the country during May, recognized as Mental Health Awareness Month, it's become a fundamental part of the year-round student-athlete experience at the University of Colorado-Colorado Springs.
The athletics department regularly holds social wellness events — gratitude game night near Thanksgiving, for example — to bring student-athletes from different teams together and broaden their community. Mountain Lion student-athletes run a peer-led injury support group. Coaches, staff and student-athlete leaders go through suicide prevention training.
These are a few notable efforts to come from the Mountain Lion Strong program, one of five projects to receive funding from the NCAA Innovations in Research and Practice Grant Program in 2022. The NCAA program, which is overseen by various school representatives, awards $100,000 total each year to conduct projects designed to enhance college athletes' psychosocial well-being and mental health.
The funding Colorado-Colorado Springs received jump-started its Mountain Lion Strong program, an idea born from the negative impact the COVID-19 pandemic had on student-athlete mental health and well-being. The need for such programs has never been greater, shown by the NCAA Student-Athlete Well-Being Study, which examined the impact of the COVID-19 pandemic on the physical and mental well-being of student-athletes during spring 2020, fall 2020 and fall 2021.
"I think the grant's been really invaluable," said Jessica Kirby, an assistant professor in the Colorado-Colorado Springs college of nursing and health sciences who's leading the Mountain Lion Strong program. "The momentum difference with the grant has been not even comparable to some things we tried to do before."
The Mountain Lion Strong program aims to develop and pilot a comprehensive, evidence-based model that uses a tiered, progressive and multifaceted approach to improve the psychological well-being of student-athletes.
The program focuses on five primary pillars: identity development, physical and mental well-being, goal setting and time management, healthy relationships, and nutrition. Each pillar was developed with a five-stage progressive approach that grows with student-athletes each year, from freshmen transitioning to college to graduating student-athletes needing a healthy transition out of sport.
"This type of program is wonderful for them to gain the education they need to not only get through what they're getting through as college athletes but also prepare them for life after college athletics," said Dave Hajek, baseball head coach at Colorado-Colorado Springs.
Keegan Sueltz, who plays for Hajek and helps Kirby with the Mountain Lion Strong program, said the program has broadened his perspective on what personal care entails as a college athlete.
"As athletes, I think we don't really think about all the things that we might need. Physical wellness is an obvious piece we all pay attention to, but we don't really look at the mental wellness or social wellness or spiritual wellness," he said. "I think the program's really opened my eyes and made me realize that there's a lot more to being a student-athlete than just the physical aspects of it, that we need to take care of ourselves more, and there's a lot of resources out there that we can tap into to help us do that."
The project team hopes the Mountain Lion Strong program becomes a resource other NCAA schools can tap into to launch similar efforts on their campus. After the program's funding period from the NCAA grant ends in July, the team will develop a comprehensive best-practices guide for schools.
Nathan Gibson, director of athletics at Colorado-Colorado Springs, spoke about the Mountain Lion Strong program at a panel discussion during the 2023 NCAA Convention in San Antonio. His advice for the other administrators and student-athletes in the room?
"Don't be afraid to start. That was one of my fears rolling out a program like this, what you might uncover, what you might find out. And what we found out has been that we have some work to do, but we also have some really great things to build on," he said. "Ultimately what we found is that we're supporting our students at a much higher level, we're supporting our coaches at a much higher level and we're building a program that's hopefully going to benefit places beyond UCCS."
Gibson added that the best place to start is with the student-athletes.
Kirby intentionally made sure former and current student-athletes like Sueltz and Audrey Bloomquist, a track and field athlete, were involved with Mountain Lion Strong from the beginning and have continued to be involved in its development.
"They know how valuable this is to the future athletes coming through," Kirby said. "Seeing their investment so they can build something for the athletes coming up that they didn't have is really cool to watch."
Additionally, before any curriculum and resources were created for Mountain Lion Strong, Kirby and her team conducted a needs assessment that included an electronic survey to all student-athletes, coaches and administrators. The survey was followed by a focus group exercise with members of the school's Student-Athlete Advisory Committee. The needs assessment focused on understanding the group's perceptions on the greatest perceived barriers and challenges student-athletes faced on campus, needs for support and resources, and programs and processes already in place that can be improved or elevated.
The assessment directly led to the social wellness events and the peer-led injury support group. Other Mountain Lion Strong program offerings include suicide prevention training, educational workshops for coaches and student-athletes, peer-led wellness sessions, skill-building guides and goal tracking, a handbook with links to resources, and peer experience videos to normalize seeking help and expanded mental health screenings.
"To have the resources and the Mountain Lion Strong program … I think it's extremely beneficial," said Tara Hittle, volleyball head coach. "I feel very fortunate. I know our student-athletes have really appreciated it. They've benefited from it a lot."
Coaches have benefited, as well. In addition to the suicide prevention training, coaches have gone through wellness training and education to introduce them to the information that their student-athletes would be exposed to and evaluate how they support their own wellness.
This part of the program fits a nationwide need, as evidenced by NCAA research's recent coach well-being study. Of the nearly 6,000 coaches to take the survey, one-third of them reported they "constantly" or "most every day" experienced mental exhaustion, feelings of being overwhelmed by all that they had to do and sleep difficulties.
"We've been able to do some things to be sure to support coaches to feel like they have that education and tools to not only set the healthy standard for the athletes but also to be able to take care of themselves because they're not going to be able to coach them at their best if they're burned out," Kirby said.
Coaches have also implemented team-specific workshops with Kirby, an aspect of the Mountain Lion Strong program aimed at supplementing its broader programming opportunities. These sessions range from goal setting to performance anxiety to mental toughness and resilience, among other topics.
Ultimately, Hajek said the program's impact goes beyond wins and losses. Personally, it aligns with his mission as a coach that stems from his student-athlete experience as a baseball player at Cal Poly Pomona under legendary Division II coach John Scolinos.
"One of his phrases back in the '80s was, 'We're not trying to develop big league ballplayers here. We're trying to develop big league men.' This program fits right into that mold," Hajek said. "Something like this program has potential to reach out to an even broader environment. Any way that we, as coaches, can help the next generation, that's what it's all about. You certainly want to put a positive winning environment together; that's definitely something that drives all of us coaches. But at the same time you're trying to develop young leaders, young minds who are going to have a positive impact on our city, our world for the next generations to come. This is the kind of thing that grows at the grassroot level that can help."