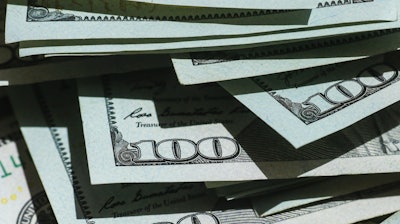 A new mobile app will allow fans to directly pay athletes in exchange for digital merchandise signed with the athlete's digital signature.
The app, myNILpay, was launched in Frisco, Texas, last May and allows for Venmo-like payments directly to athletes.
myNILpay offers taxable transactions fully compliant with NCAA protocol and federal, state and local laws. In exchange for the money sent through myNILpay, fans receive "a unique digital asset featuring the athlete's name and digital signature" -- an NFT, essentially -- in order for the transaction to meet NCAA compliance. By digitally signing the asset, the athlete then fulfills the NCAA quid-pro-quo stipulation.
"We are thrilled to launch myNILpay as the easiest and most effective way for college fans to support any student-athlete in any NCAA-sanctioned sport at any level, male or female," myNILpay CEO and Chairman Brent Chapman said in a statement. "The myNILpay app is simple to use and allows fans to provide support at almost any monetary amount at any time. Our platform changes the game for fans to be directly involved in supporting their favorite student-athletes."
The new app is already in use in North Texas, and former TCU quarterback Andy Dalton has apparently pledged to send direct payments to more than 450 Horned Frog athletes through the app.
"I think it is wonderful that college athletes can take advantage of their name, image and likeness to make some money," Dalton told On3.com in a statement. "When I learned about the myNILpay app and saw how easy it was to support any college athlete, it gave me an avenue to show my appreciation for every current athlete at TCU. I hope fans across the nation take advantage of this great app and support collegiate athletes of their choice."
Chapman said that all NCAA athletes are pre-loaded into the app so that users can just search for the player they're interested in sending a payment to. Once the payment is sent, all an athlete has to do is click a button to accept the payment and collect their funding.
The app does include a fee for myNILpay to deliver funds, with athletes receiving 90% of the transaction and the company retaining 4%.The app is now live on Apple's App Store.