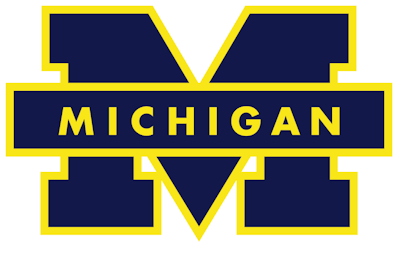 An agreement between the NCAA and University of Michigan football head coach Jim Harbaugh concerning penalties stemming from what the NCAA deemed to be false statements Harbaugh made to investigators has broken down, an industry source told Yahoo Sports.
Harbaugh and the NCAA had come to a tentative resolution that would see the coach serve a four-game suspension to begin the 2023 season. Multiple former assistants were also sanctioned.
The deal still needed approval from the NCAA's Committee on Infractions, which was considered by many to be a formality.
However, hurdles arose and the deal is now off, sources said. Yahoo Sports didn't indicate what those hurdles might be.
Instead, the case will move further through the NCAA disciplinary system, almost certainly into the offseason sometime in 2024, according to Dan Wetzel of Yahoo Sports. Harbaugh is now expected to coach every game of the Wolverines' season, starting with a Sept. 2 game against East Carolina at Michigan Stadium.
"The Michigan infractions case is related to impermissible on and off-campus recruiting during the COVID-19 dead period and impermissible coaching activities — not a cheeseburger," said Derrick Crawford, NCAA vice president, hearing operations. "It is not uncommon for the [Committee on Infractions] to seek clarification on key facts prior to accepting. ... If the involved parties cannot resolve a case through the negotiated resolution process, it may proceed to a hearing, but the committee believes cooperation is the best avenue to quickly resolve issues."
The case is centered on alleged Level II NCAA violations by Harbaugh and his staff that include meeting with recruits during a so-called dead period, watching workouts on Zoom and having too many analysts participate in on-field practice coaching. Each of those is considered a minor-to-moderate violation that would normally result in limited penalties.
During the investigation, the NCAA alleges that Harbaugh, entering his ninth season as head coach at his alma mater, was not forthcoming with investigators and therefore added a Level I violation onto the case, which calls for far stiffer penalties, including suspensions.
Harbaugh and the NCAA had appeared to reach a deal that would see the coach sidelined for one-third of the season.
As reported by Wetzel, Michigan has reached consecutive College Football Playoffs. It's ranked No. 2 in the USA Today Coaches' preseason poll and is considered a contender for both the Big Ten and national championships.
"If the case is heard in 2024, it is uncertain if Harbaugh will even still be Michigan's coach," Wetzel wrote. "In each of the past two off-seasons, he's discussed returning to the NFL and would likely again draw professional interest."