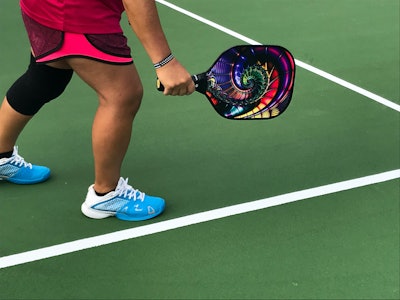 Joan Azeka, Unsplash
The Professional Pickleball Association Tour today announced that is has become the first-ever pickleball organization upon which bettors can place wagers.
Beginning today with FanDuel Sportsbook, fans across 10 legalized betting states and one Canadian province can now place wagers on PPA Tour events, including the Vulcan Kansas City Open which runs August 24-27. At launch, bettors will be able to watch the live action while placing wagers on different betting markets such as match winners, correct match scores, total points (over/under) and head-to-head.
The PPA Tour expects all major U.S. sportsbooks to host pickleball gambling upon receiving approval in additional states.
"This is a monumental moment for the PPA Tour and the game of pickleball as a whole," PPA Tour Founder and CEO Connor Pardoe said. "We are excited to be paving the way in the pickleball sports betting space, and we couldn't be prouder to lead the sport's leap into such an innovative industry. The immense growth of pickleball over the past few years has driven widespread interest in all aspects of the game, including playing as amateurs and watching the professionals in person at events and from home. Our venture into sports betting will bring a whole new level of engagement from current and new fans, and we continue to be excited for what the future holds for our sport."
The PPA Tour, via its partnership with Genius Sports, an official data, technology and broadcast partner, will provide data and live video feeds to all participating sportsbooks and other online vendors, allowing bettors to engage with events in real time.
"Creating an official data-powered betting product for pickleball, the fastest-growing sport in America, is a crucial platform for the PPA Tour to engage new and existing fans," said Sean Conroy, Executive Vice President, North America at Genius Sports. "We're excited to offer sportsbooks with valuable new content including low latency video feeds on PPA Tour events, starting with this weekend's Vulcan Kansas City Open."
In conjunction with the launch, all PPA Tour professionals are subject to the PPA Tour Sports Betting and Integrity Policy. All PPA Tour staff, officials and players have been required to complete an e-learning platform focused on betting integrity and player wellbeing. The PPA Tour has engaged Sportradar to aid in the creation of the Sports Betting and Integrity Policy, the e-learning platform and processes for safeguarding players.