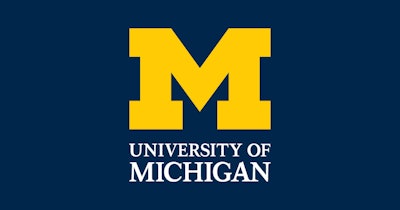 Connor Stalions, the Michigan analyst who has been suspended in connection to an alleged illicit scouting ring, reportedly bought tickets for games at four schools outside of the Big Ten that were either in College Football Playoff contention or playing contenders.
According to ESPN, which cited unnamed sources, there is also record of Stalions buying tickets to the 2021 and 2022 SEC title games.
Stalions, who is also at the center of an investigation into Michigan's alleged sign-stealing operation, bought tickets to a 12th Big Ten school, as sources at 12 of the 13 possible Big Ten school have a record of Stalions buying a ticket there.
According to four sources, all of the tickets for games outside the Big Ten involved CFP contenders and were purchased either toward the middle or end of the 2022 season, as Michigan was headed to the College Football Playoff for the second consecutive season.
The Big Ten announced last week that Michigan (8-0, 5-0) is under NCAA investigation for the alleged sign-stealing operation. The Wolverines are currently ranked No. 2 in the country.
Stalions has been suspended without pay, and schools around the country have been checking their ticket data to see if Stalions purchased tickets for their games.
ESPN confirmed that Stalions has purchased tickets to more than 35 games at 17 stadiums around the country. He has used a network of at least three people, who were forwarded the tickets to attend games.
Video evidence has emerged of a person sitting in a seat purchased by Stalions that was using a cellphone to record the sidelines.
"Unless something happens right now, it's irrelevant," a source on a Big Ten campus told ESPN, underscoring the frustration around the league. "Everyone is mad. This is not right. But what is the NCAA going to do about it?"
The Big Ten could take action if the NCAA doesn't. Big Ten's sportsmanship policy states that commissioner Tony Petitti has the "exclusive authority to determine whether offensive actions have occurred" and to impose discipline for members.
The policy lists "integrity of the competition" as a fundamental element that all Big Ten schools are expected to uphold. Institutions are responsible for "the actions of its employees" and for cooperating with the league during an investigation.
A source told ESPN that the Big Ten would want to have "as full of a picture of what the facts actually are if we were to act" before the NCAA completes its investigation, which likely would not occur until sometime in 2024.
Michigan head coach Jim Harbaugh last week denied in a statement that the Wolverines had illegally stolen signs, adding that he had never "directed any staff member or others to participate in an off-campus scouting assignment."