Age discrimination is illegal and potentially expensive for athletic departments.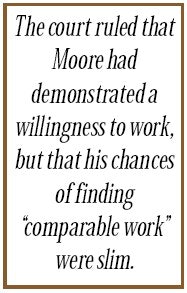 According to the Administration on Aging, the percentage of Americans over the age of 55 is currently 21.3 percent of the population, a number that is expected to surpass 25 percent by the year 2010. This aging of the U.S. population could have a number of legal, ethical and financial ramifications within the sports industry. Well apart from developing marketing strategies to attract and retain older customers (a current administrative preoccupation), athletic administrators also need to be aware of the legal rights of older employees.
One of the laws protecting older Americans is ADEA, the Age Discrimination in Employment Act (29 U.S.C § 621 et al.). Signed into law in 1967, the stated purpose of ADEA is to promote employment of older persons based on their ability rather than age, to prohibit arbitrary age discrimination in employment, and to help employers and workers find ways of dealing with problems that arise from the impact of age on employment. ADEA protects most workers 40 and older from discrimination in recruitment, hiring, training, promotion, pay, benefits, firing, layoffs, retirement and other employment practices. The federal department responsible for gathering and investigating charges of age discrimination under ADEA is the Equal Employment Opportunity Commission. The EEOC, however, is not the only entity allowed to file lawsuits under ADEA. Individuals have the right to file lawsuits under the law as well.
An example of how the courts have applied ADEA in age-discrimination cases is Moore v. University of Notre Dame [22 F.Supp.2d 896 (N.D.IN 1998)]. Joseph Moore was the offensive line coach at the University of Notre Dame from 1988 until he was fired in 1996. Moore, who was 64 years old when he was fired, claimed that Bob Davie, the head football coach, told him he was being let go because he was "too old" and would not be able to coach effectively for the duration of another fiveyear contract. The university claimed that Moore was released because he did not measure up to the standards of Notre Dame. In particular, Notre Dame claimed that Moore had intimidated, abused and made offensive remarks to players. After he was dismissed, Moore sued the university alleging age discrimination under ADEA.
To establish a prima facie case of age discrimination under ADEA, a plaintiff must satisfy four elements - that the plaintiff is a member of a protected class (in this case, someone over 40), that he or she was qualified for the position, that he or she was discharged, and that he or she was either replaced by someone outside the protected class, replaced by someone younger, or otherwise discharged because of age. The jury in the Moore case found that Notre Dame and Bob Davie did in fact fire Moore because of his age in violation of ADEA.
Once an organization is found to have violated ADEA, the law is designed to make a plaintiff whole through the use of equitable remedies, which include reinstatement, back pay, injunctive relief, declaratory judgment and attorney's fees. Additionally, if the discrimination is found to be willful, ADEA authorizes an award of liquidated damages equal to the back-pay award. (Moore won a jury award of $42,935.28 in back pay and a liquidated damages award of $42,935.28.)
Although the court found that Notre Dame violated ADEA, it refused to grant Moore's request for reinstatement to his former coaching position. While reinstatement is the preferred remedy in a discrimination case, the court noted, it is not always an appropriate remedy. In Moore, the court found that there was sufficient evidence presented at the trial to infer that Moore and Davie would be unable to engage in a workable relationship. Even if Moore's return would not have created hostility and undue friction in the football program, the court ruled that reinstatement would still not be appropriate in this case, since someone else was occupying Moore's former position.
In lieu of reinstatement, the court held that ADEA permitted consideration of a front-pay award. Front pay is defined as a lump-sum payment representing the discounted present value of the difference between the earnings an employee would have received in his old employment and the earnings he can be expected to receive in his present and future employment. Front pay, while designed to ensure that a person who has been discriminated against on the basis of age is made whole, is not designed to guarantee every claimant who cannot find comparable work an annuity to age 70. Front pay is especially appropriate when the plaintiff has no reasonable prospect of obtaining comparable employment or when the time period for which front pay is to be awarded is relatively short.
Notre Dame presented three arguments why Moore should not be entitled to front pay:
• Notre Dame claimed that had university administrators known of Moore's alleged physical and verbal abuse of players, they would have terminated him immediately. Notre Dame argued that although this evidence was "after acquired," it precluded both front pay and reinstatement.
Although ADEA allows an employer to rely upon after-acquired evidence of wrongdoing, the employer must first establish that the wrongdoing was of such severity that the employee would have been terminated on those grounds alone if the employer had known of it at the time of discharge. The court, in rejecting Notre Dame's argument, found that the school had knowledge of Moore's coaching behavior. In fact, Davie had argued that Moore's behavior was one of the reasons for his termination. Since this argument was rejected by the jury at trial, the court ruled that Notre Dame could not now claim that this "legitimate" reason was nonexistent at the time of the trial. In addition, the court concluded that Notre Dame failed to establish that the alleged wrongdoing was of such severity that Moore would have been terminated on those grounds alone. The court found that Notre Dame's blanket assertion that Moore would have been immediately fired was nothing more than an excuse made after the fact.
• Notre Dame claimed that Moore's award of liquidated damages had already made him whole. While front pay may be less appropriate when liquidated damages have been awarded, the court ruled that liquidated damages are only one factor to be considered in awarding front pay. Indeed, the court disagreed with Notre Dame's assertion that Moore's jury award ($42,935.28) and liquidated damages award (an additional $42,935.28) made him whole. Moore's annual salary in the 1996-97 school year was $79,552.08. Assuming an annual increase of 4 percent, his 1997-98 salary would have been $82,734.16 and his 1998-99 salary $86,043.53. At the time of the trial, Moore was earning $46,600 and working three jobs, and since being let go has been unable to replace his Notre Dame position with a comparable one. Therefore, the court concluded, the jury award had not "made him whole," and front pay was appropriate.
• Notre Dame argued that Moore failed to undertake reasonable efforts to mitigate his damages. In particular, Notre Dame argued that Moore did not accept a coaching position at Cornell University, nor did he apply for certain other coaching positions that were open.
ADEA requires a plaintiff to mitigate damages by using "reasonable diligence in attempting to secure employment" - demonstrating his commitment to seeking active employment and by remaining ready, willing and able to work. In mitigating damages, an employee is not required to accept just any employment; rather, the employment must be comparable employment. The plaintiff also has no obligation to accept lesser employment or relocate to a new community. Furthermore, an employee is not required to go to heroic lengths in attempting to mitigate his damages, only to take reasonable steps to do so.
In rejecting Notre Dame's arguments and granting Moore's request for front pay, the court concluded that Moore's failure to accept the coaching position at Cornell did not indicate a failure to mitigate. The Cornell position offered a $40,000 salary, half the salary Moore would have made at Notre Dame, and involved a tenuous situation in which the head coach was seeking other employment. As for Moore's failure to apply for certain other positions, the court ruled that Moore had demonstrated a willingness to work, but that his chances of finding "comparable work" were slim. It was the court's opinion that Moore had used reasonable diligence in attempting to obtain employment.
There are several points of note regarding Moore v. University of Notre Dame. The first is that age discrimination is illegal and expensive. The final judgment against Notre Dame, including front pay, attorney's fees, back pay and liquidated damages, cost the school more than half a million dollars. Besides the financial loss, Notre Dame suffered additional intangible costs as well, due to the negative press the lawsuit generated.
Second, it must be noted that ADEA protects all employees, not just full-time employees. In Austin v. Cornell University [891 F.Supp. 740 (1995)], two seasonal employees of the Cornell University golf course sued Cornell for age discrimination after they were not rehired. The court, ruling against Cornell's motion for summary judgment, held that the head golf professional and associate director of athletics could be held individually liable for any damages because of their discriminatory actions. (Cornell settled the case shortly thereafter.)
Finally, besides the financial and public-relations risks employers take when they dismiss older employees, it must be noted that they tend to lose a valuable asset: the employee. Older workers have a lifetime of experience, expertise and skills, and can be good role models for younger employees. However, despite all of these benefits, there has historically been a sharp drop in the labor force of both men and women from ages 55 to 64. It might behoove athletic administrators to worry less about attracting and keeping older customers, and more about figuring out how they can retain older employees.
---
Attorney John Wolohan is an associate professor of sports law in the Sports Management program at Ithaca College in Ithaca, N.Y. Attorney Glenn M. Wong, editor of "Sports Law Report," is a professor in the Sport Management program at the University of Massachusetts-Amherst.